Heavy-duty and customized shock absorbers, no matter where you are
This past year has provided ample evidence for how vulnerable supply chains can be. With the worldwide transportation slowdowns experienced in 2020 and 2021, and the corresponding increases in the price of freight, getting products from one central manufacturing facility to a customer's location became more difficult, prohibitively expensive and slower.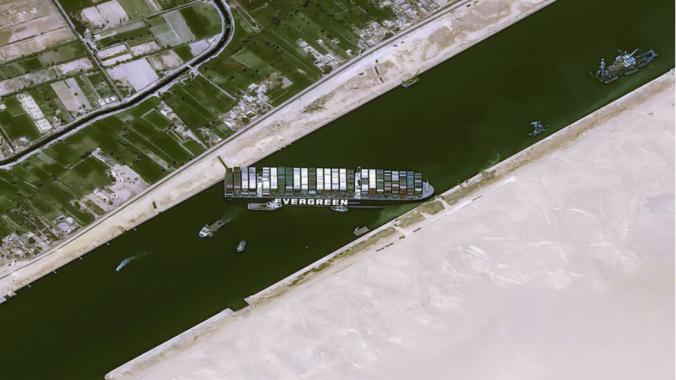 According to CNBC, because of the slowdown in the global economy in early 2020, container shipping revenue would decrease by $1.7 billion between the end of January and April of 2020. As the effects of the COVID-19 pandemic were felt worldwide, shippers were forced to adjust to this changing economic environment.
Transportation of critical parts for those industrial operations still functioning was affected as well with lower transportation availability, meaning delays and higher prices. While engineers and purchasing managers might be tempted to write this off as a once in a lifetime event, they might also consider the six-day blockage of the Suez Canal in March 2021, which inhibited a massive amount of the world's transportation infrastructure.
These two events — which overlapped to some extent — highlight the fragility and potentially exorbitant costs of relying on one single geographic source for critical parts. While such a single source is not ideal in normal times, it means that one critical disruption can grind transportation to a halt. As a result, manufacturers and industrial applications face a need to diversify their supply lines — but not necessarily their suppliers.
And when it comes to components and systems that are mission-critical and integral to personal safety, engineers need to consider which supplier can most reliably deliver the components they need.
Shock absorbers are a great example of a product type that needs a divested supply chain. From tiny units that provide end stops for industrial slides and other equipment, to large-bore devices that can handle many thousands of pounds, shock absorbers help keep the world running.
Without these simple and reliable devices that slow moving masses down in a controlled manner, machine longevity and safety for people would be greatly reduced. Specifying the proper device for a particular application is critical to smooth industrial, transportation and even architectural applications. To ensure a robust supply chain while still allowing customers access to customized heavy industrial hydraulic shock absorber designs, ITT Enidine established distributed manufacturing in three locations worldwide. Their oft-customized HD/HDN large bore products are made in all three locations, with manufacturing operations including:
USA: Manufacturing for North and South America; HD/HDN and Jarret product lines
Germany: Manufacturing for Europe, the Middle East and Africa; HD/HDN product line
China: Manufacturing for Asia, as well as Australia; HD/HDN and HI product lines
This distributed manufacturing insulates customers from exorbitant transportation charges and delays. It can help keep customers' operations running and allows for new process functionality — especially when custom designs are needed — in a timely and costeffective manner.
ITT Enidine also supports purchasing functions, as well as custom engineering from these locations, further preventing delays and communication issues due to disparate time zones. Enidine's parent company ITT has employees in 35 countries, and works with customers in roughly 125 countries, allowing them to provide excellent service worldwide. ITT Enidine is a well-known manufacturer of energy absorption and vibration isolation products, with a wide variety of capabilities to suit a customer's needs. Small bore shock absorbers offer solutions to energy absorption requirements on a small scale.
These can be ordered with a set damping value, or with adjustment built-in when input parameters are not clearly defined. Such devices are appropriate for use as end-stops in industrial machine tool and conveyor operations for small parts and in many other applications. Off-the-shelf solutions are often appropriate. Vibration isolation products include wire rope isolators, which are constructed of coiled stainless steel cable, and can support up to 3,600 lbs each.
These ingeniously simple isolators are virtually maintenance-free when properly selected and installed. A second solution, air spring products, can provide significant vibration isolation, and can lift in excess of 100,000 lbs when employed as actuators.
Fluid viscous dampers are designed for structural use and can guard against seismic activity. ITT Enidine fluid viscous dampers are designed to meet stringent performance requirements while being maintenance-free over a long lifespan.
Heavy industry shock absorber products from ITT Enidine include several types of energy absorption products for heavy industry, including:
The Heavy Duty (HD/HDN) series of hydraulic large-bore shock absorbers — elaborated on below — to protect equipment from impacts where soft deceleration is required, using a long stroke length.
The Heavy Industry (HI) series is designed to protect heavy machinery and equipment during the transfer of materials and movement of products. These can be applied in applications such as bridge cranes and transportation safety stops.
The Jarrett series of visco-elastic springs and bumpers, which use a compressible silicone fluid to regulate the piston travel and return it to the original position without the use of internal gas chambers or mechanical springs.
HD/HDN hydraulic large bore shock absorbers
The HD/HDN series of large-bore shock absorbers is an especially versatile product line, which is often customized to suit customer needs. Applications range from:
Automated stacker crane safety stops
Ladle transfer cars
Coil upenders/downenders
Large container transfer
Cab-operated bridge cranes
Ship-to-shore container cranes
ITT Enidine HD/HDN hydraulic large-bore shock absorbers protect equipment from impacts in applications where competitively soft deceleration is required. They are capable of smoothly and safely decelerating large energy capacity loads of up to 3,000,000 in-lbs (330,000 Nm) per cycle. This requirement means longer bumper stroke lengths, and to this end HD/HDN shock absorbers are available with stroke lengths of up to 60 in, with standard bore diameters of up to 6 in.
These shock absorbers are available with mounting configurations that accommodate both rotary and linear motion. HD/HDN shocks are designed with environmentally friendly materials and fluids, with optional fluid and seal packages that can expand the standard operating temperature range of 15° F to 140° F (-10° C to 60° C) to -30° F to 210° F (-35° C to 100° C).
External components are painted for excellent corrosion protection, and all sizes in this line are field repairable. These shocks are designed with an internal air/oil accumulator, which replaces mechanical return springs to provide shorter overall length and reduced weight. An optional bladder accumulator (BA) is also available for higher cycle rates, and piston rod extension sensors are available for re-use safety requirements. ITT Enidine offers a number of off-the-shelf products for this line of shock absorbers.
However, because of the line's versatility, and the wide variety of environments in which they must operate, around two-thirds of these products are customized to end-user needs. This may mean different materials and operational fluids for extreme operational environments, custom mounting hardware, and custom paint and epoxy finishes as discussed in the spacecraft landing gear test fixture example below, and more.
Case study: Spacecraft
landing gear test fixture protection A major manufacturer of spacecraft and systems located in California — who has leveraged ITT Enidine's highly engineered products in the past for critical applications — had a need for testing landing craft legs in multiple configurations in a controlled test environment.
The company's ability to test full-scale individual landing legs in multiple positions to simulate real-world conditions is critical to the success of the program. The testing takes place in a variety of conditions and with very quick cycle times, compared to alternatives such as testing multiple prototype legs simultaneously on a prototype spacecraft. This saves valuable time, money and the spacecraft itself from being exposed to the rigors of such testing while providing feedback to the team for improvements and modifications to the system.
ITT Enidine provided seven HD 6.0 x 30 FM specials with epoxy paint to meet the critical testing requirements needed by the customer. The dampers are split between a free-falling mass and a translating horizontal mass. These units are currently being tested with the landing gear and are there to catch the test fixtures if they should overrun the expected landing requirements. Additionally, the ability for the team to run the test stand empty saves both time and money while allowing these critical subsystems to be verified and tested safely.
Enisize: Off-the-shelf product selection tool
While ITT Enidine stands ready to help with product selection needs, engineers may want to get a broad overview of what is available, or quickly select an off-the-shelf part. For this purpose, ITT Enidine offers the Enisize product selection tool . This web application allows engineers to select between a range of hydraulic shock absorbers, inputting the application type, and whether dimensions are required in either imperial or metric.
Wire technology vibration and shock mount selections can also be made by inputting the configuration required, and the supported load dimensions. Engineers can also generate product 3D models for use in overall designs.
Case study: Ski lift trolley cars
A Germany based manufacturer of ski lift trolley cars was searching for a way to improve the deceleration rate of the moving cars when approaching the unloading station. The cable driven trolleys enter this area at a rate of speed that would incur jarring without smooth deceleration. The cold and wet environmental conditions were also factors. The customer contacted ITT Enidine for a possible solution.
ITT Enidine suggested replacing their existing shocks with their heavy-duty large-bore shock absorbers. Utilizing a special compact design, these heavy-duty shock absorbers smoothly and safely decelerate large energy capacity loads up to 8 million in-lbs/cycle. The results provided the customer with a safe and effective deceleration. The heavy-duty shock absorbers also provided the customer with added security and increased lifetime of the application components.
Case study: Pulp and paper industry
ITT Enidine is a main component supplier to the pulp and paper industry. From the start of the paper making process to the finished goods, their products provide real-world energy absorption capabilities. While the previous case studies have highlighted one ITT Enidine product, the operation of a typical paper mill highlights their ability to supply a diverse set of motion control components used to keep the process running smoothly.
In a typical paper mill, roll receiving operations can use OEM 3.0, 4.0 and HD/HDN shock absorbers to cushion impacts. In the forming press and drying operation, air springs are used to isolate equipment vibration. When process variables are unknown or change over time, engineers can choose to use adjustable series shock absorbers to tune their processes on-the-fly. In more wellknown and stable operations, non-adjustable series shock absorbers may be chosen as a reliable solution that can be replaced with a known quantity later, if needed. When customized solutions are needed, ITT Enidine is ready to provide engineering and manufacturing expertise worldwide.
Proven solutions for the world of shock absorption
ITT Enidine was established in 1966, and provides products and services to the industrial, aerospace, defense, rail and transportation markets worldwide. ITT Enidine was founded over 55 years ago in Orchard Park, New York. ITT Enidine has the resources to stay at the forefront of new technologies, research and development, and high-quality production for customers around the world. Now, with worldwide production of their HD/HDN shock absorber lines, ITT Enidine is ready to help establish new operations, enhance existing systems, and provide maintenance support in a timely manner, no matter where the operation is located. Contact them using their contact form, call them at 716-662-1900 or find a local distributor. Whatever a customer's shock absorber needs, ITT Enidine is here to help with distributed engineering, purchasing and manufacturing support.
Now, with worldwide production of their HD/HDN shock absorber lines, ITT Enidine is ready to help establish new operations, enhance existing systems, and provide maintenance support in a timely manner, no matter where the operation is located. Contact them using their contact form , call them at 716-662-1900 or find a local distributor. Whatever a customer's shock absorber needs, ITT Enidine is here to help with distributed engineering, purchasing and manufacturing support.
Sponsored by: ITT Enidine Inc