Condition Monitoring in the Age of the of the IIoT – the fourth revolution
Considering Industrial history in four different revolution steps, let's briefly outline what kind of challenges condition monitoring and maintenance employees are facing in the age of Industry 4.0.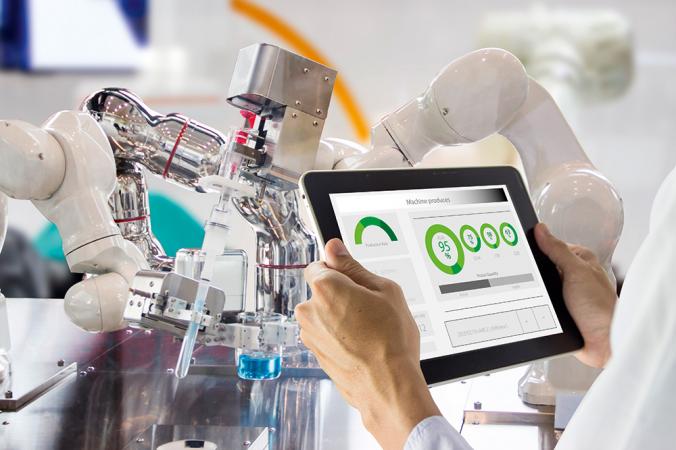 The term (IIoT) is often set equivalent to "Industry 4.0" – industry in the age during and after its fourth revolution. And it is true: Both economy and society at the beginning of the 21st century are at the starting point of disruptive changes caused by the impact of modern information technology and most of all a thing called "The Internet". For sure it is not possible to predict what this fourth revolution will bring in the near and far future. But when prediction is hard to make, a look into the past, in order to learn from the developments and technologies that shaped our history, is a good step forward.
The steam engine as the baseline of the industrial age
The first industrial revolution roots back to the invention of the steam engine (app. end of 18th century). Many books were written about that time, when a piece of technology – today considered as baseline technology – changed the face of society and even more; it changed the face of our planet. An example: In the 100 years that followed, steam trains and railroads made continents smaller and economies grew faster because of the quicker exchange of goods and information. From the human perspective however, societies took decades to adjust to the social impacts of the steam age – this process still lasts to this day. The foundation of early labour unions and social insurance systems were first steps in humanity to adapt to the unstoppable, and pace-setting age of industrialization. And yet working conditions nowadays worldwide are still not equal.
Henry Ford starts another technical and social revolution
The second industrial revolution commonly starts with the era of electricity, automation and mass production. Let's point out Henry Ford as the most renowned representative of this age. He was the first industrialist, who introduced the forty-hour workweek as early as in 1926. He did this though he was fully aware of the common situation of his decade. He strongly believed that this would raise productivity on the one hand and would give his employees more time and freedom to spend money on the other.
Also during this era, workers all over the world started to take care more and more of the production process itself instead of just being contributors to the final product. This had a great impact on the role of the working people, since their role had changed. You might want to say that this was the starting point of industrial "care taking", not only for the people, but also for the machines. A new profession was born: maintenance employees, who "took care" more and more of their machines on a regular basis.
From Konrad Zuse to Steve Jobs and Bill Gates – computers start the next revolution
The third industrial revolution is strongly connected to the introduction of personal computers and their impact on professional life from about the second half of the 20th century onwards. Thanks to the miniaturization of semiconductor technology, companies like IBM, Apple and Microsoft revolutionized the work in offices and in plants. Cumbersome and long calculations could be resolved in no time by microcontrollers and personal computers. Finally even pocket calculators made the life of engineers (and students) easier and more efficient.
Regarding the now highly-educated and specialized maintenance staff, their working ways changed rapidly too. The stethoscope, dial-gauge and straightedge were replaced by computerized systems. Infrared cameras, ultrasound testing devices, vibration analyzers and laser shaft alignment systems became standard tools at the end of the 20th century to analyze the health status of production assets in order to avoid downtime.
The invention of OPTALIGN® – the first computerized laser shaft alignment tool that utilizes a laser and a sensor to measure the misalignment – in 1984 revolutionized the way to align machines. This new technology introduced by PRUFTECHNIK has been saving millions of hours' working time for maintenance staff all over the world and goes hand in hand with a parallel reduction of energy consumption and production downtime.
The Internet as worldwide accelerator for industry and society
The ignition spark for the fourth revolution has just been set. Its beginning can be marked with the high degree of computer connection and interaction as machines start to communicate. Today, any everyday device from computers to mobile phones or even refrigerators and wearables are connected to each other. Industrial machines may get into interaction, too. Intelligently-mounted sensors monitor the machines. Algorithms take over the steering. Human-Machine-Interaction (HMI) is escalated to another level as it was only a few years ago.
However today, we are still at the beginning of this new era of Industry 4.0 and some people are convinced that future history books will name the world wide web (or the "Internet" in short) as the key trigger for these massive changes. And of course, this fourth industrial revolution will change the way in which we work and live together as it always did in the eras before. There is hope and good reason to assume that it will not only be for the worse but for the better – as seen in the past summary of historical industrial revolutions. But what challenges and impacts can be expected for maintenance employees in almost daily changing working environments?
The Industrial Internet of Things – challenge or solution?
Predictions are hard to make but already today there are sophisticated challenges that need to be resolved, especially when considering the IIoT environment. The more Things mankind connects to each other – starting from computers through mobiles up to industry and everyday devices – the more data are produced and collected. These require not only huge amounts of storage space, but even intelligent management. On an industrial level those connected Things are the machines and assets, their control systems and the net of sensors that measure and finally steer the variables of all those machines.
Let's pick a typical example of a temperature sensor on a motor that transmits the information into a Programmable Logic Controller (PLC) or database. Ok, this alone is not sufficient to talk about a new paradigm change. But let's scale this onto a higher level. There is not just one sensor in an industrial plant or mill, there are thousands of different sensors that transmit their data into a storage mine that is filled with other plant's data, too. A data lake – rather a sea – is created. Intelligent algorithms will mine through this data lake in order to find problems, but also better operating parameters for plants worldwide. Though innovative solutions for the maintenance world have been available for some time, new questions arise due to this technology: How to manage, store and secure this huge amount of data? How can this data be prepared for algorithms? Who is responsible for the results of self-learning algorithms that work with all those data, especially when it comes to machine damage or even people's death due to wrong decisions being made?
What's next?
The answers to all the questions above certainly will not come as early as tomorrow but maybe with the next industrial revolution since not just technical, but even social, ethical and juristic questions need to be answered. But in any case, what we can learn from the history above, is that the maintenance sector is changing faster and with greater impact than ever before.
Employees in the maintenance sector for now and in the future have to be able to read, understand and interpret algorithms and their results. Their profession is rather turning from a skilled craftsman to a "data lake manager".
Wherever the journey of maintenance will go to in the future, one thing certainly cannot be captured by any machine or algorithm: Decision making based on real world experience. This is and certainly always will be a human-only skill. But self-learning algorithms and their results (based on giga- and terabytes of measurement data) are going to support the professional maintenance employee of the future to decide how to solve maintenance issues.
PRUFTECHNIK has been delivering and optimizing industrial solutions for maintenance personnel throughout more than 40 years and always adapted to changes within the industrial environment. Its laser shaft alignment systems are using the latest microelectromechanical systems (MEMS) technology in the sensors with in-built intelligence.
PRUFTECHNIK handheld and online Condition Monitoring systems keep the productivity of plants high in actually any industry sector around the globe. PRUFTECHNIK implements the latest technology always with the goal to create ultimate benefit to their customers. The German maintenance specialist therefore is excited and curious, too, what the future will bring and will keep on supporting maintenance personnel in their daily life with highest quality and latest technology precision tools and monitoring solutions.