Asset and Maintenance Management: Combined Technologies to Uncover Untapped Business Value
In the technology-pervasive times we live in; whether called the Information Age, the Digital Age, or Industry 4.0; new, easier ways to work have emerged.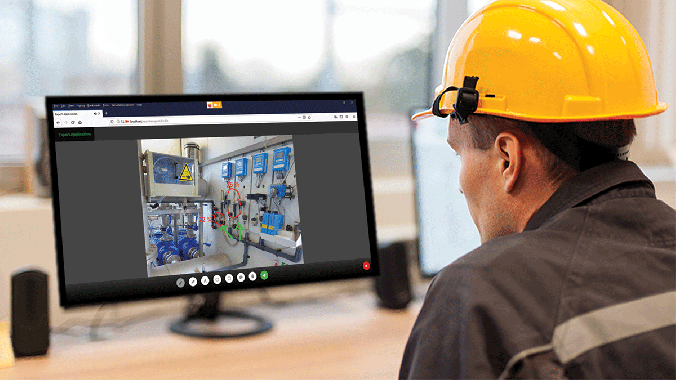 There's no doubt how fundamentally technology has affected both individuals and organizations. Maintenance technicians, in particular, have seen the nature of their jobs evolve, in step with the latest advances in IT and OT. Multiple combinations of software and hardware have helped move maintenance priorities from the legacy break-fix model to a more proactive, time-reducing, and cost-saving model.
Some specific technologies have helped to guide this major change. These include asset-based monitoring and control, as well as predictive fault detection and diagnostics (FDD); concepts that have been developed and furthered by ICONICS, a global provider of automation software (https://iconics.com), into its AssetWorX and FDDWorX solutions, respectively.
Asset-Based Monitoring and Control
There are multiple benefits to being able to see an organization's connected digital assets in an easy-to-understand, hierarchical format. It allows managers, operators, and maintenance personnel a shared overview as to the equipment involved in business operations. The asset "tree" provides a functional hierarchy for navigation and for data roll-ups. Lower-level equipment combines to form higher levels in the structure. Physical locations and areas of responsibility can be identified in the hierarchy.
ICONICS AssetWorX helps to organize enterprise and equipment data into reusable asset equipment classes (templates), which allow for reuse and scalability while also improving ease of configuration. These configured assets can represent any equipment or area in an application (e.g. pumps, heat exchangers, well heads, gas fields, turbines, chillers, buildings, building zones, manufacturing cells, plants, etc.). In addition, the ability to auto-configure assets for use within a SCADA system (for monitoring, control, etc.) helps save on engineering time, increases ease of use, and ensures scalability for future application additions.
AssetWorX can identify specific equipment and all of its associated properties and KPIs, including real-time status, alarm data, historical data, runtime accumulation, or downtime accumulation by cause. In maintenance applications, configured asset properties can include maintenance work order information with data acquired from a network-connected enterprise asset management (EAM) system, fault detection rules, mechanical drawings accessed from a networked CAD system, or unit production data accessed from an enterprise resource planning (ERP) system.
Assets configured through AssetWorX can then be monitored and controlled through runtime, using an Asset Navigator, where users can perform a variety of commands, such as accessing reports, displays, trends, alarms, and other information about the equipment from the asset tree by left- or right-clicking on any node in the tree. Right-clicking pops up a menu of options that have been previously defined for runtime users. Runtime menus can vary from node to node, and from platform to platform. For example, a user could create menu options that are available only from a desktop monitor or only from a phone app. The list of highly useful commands accessible through an asset node in ICONICS AssetWorX continues to grow.
Predictive Fault Detection and Diagnostics
AssetWorX allows for embedding certain capabilities into individual connected assets, such as the ability to monitor energy use (by equipment, line, product, building, plant, etc.). For maintenance operations, it can be especially useful to set specific assets for predictive maintenance purposes using artificial intelligence (AI) and ICONICS FDD technology.
ICONICS FDDWorX helps users to analyze all available information to detect and predict faults in equipment. It incorporates algorithms that weigh the probability of faults and advises maintenance personnel, operators, and managers of actions to prevent equipment failures or excessive use of energy. When equipment failures occur, the connected assets' current and historical information is analyzed along with symptom/cause relationships that the system has been taught. The software executes AI algorithms and provides users guidance with a list of probable causes sorted by probability. This immediate guidance reduces mean time to diagnose and repair, equipment downtime, and overall maintenance costs.
Detection is based on definable logic that aggregates all available past and present data to detect current or future faults. Faults can be defined in many different ways, but are far more specific than alarm conditions, allowing users to specify enabling conditions that must be met and parameters that can help determine if a fault has occurred, or is about to occur. Diagnostics is about capturing knowledge from existing workers (the experts), work order history, alarm history, manuals, and device symptoms into a single place. It allows for the type of "institutional knowledge" that may have previously only existed in the heads of senior technicians to be recorded and kept digitally and used for analysis. By aligning conditions with symptoms and probability-ranked causes, fault diagnostics can be used to suggest the most likely cause of a fault as soon as one occurs.
A Cost-Saving, Time-Reducing Combination
ICONICS provides a combination of an ISA-95 compliant hierarchical tree structure that mimics the layout of an organization's plant, building, campus, or enterprise with advanced predictive maintenance technology. The software solution is easy to set up and deploy and integrates with the most popular BAS, SCADA, and business systems. An extensive library of standard equipment diagnostic models is also included to speed setup and deployment time, while a rules-based editor helps users easily customize and add new equipment diagnostic models.
FDDWorX integrates with AssetWorX for defining assets, faults, diagnostic models, relationships between those assets, security on those assets, and a powerful commanding infrastructure for rich visualization in the runtime environment.
ICONICS aims to help organizations' maintenance operations with logical asset-based control used in tandem with state-of-the-art fault analytics. Not only do these methods help to keep better track of all connected assets and data, but also to analyze them to uncover previously hidden additional value, such as savings from energy management, proactive maintenance, and much more.