Predictive Maintenance + Cloud-Integrated Mobility
Recent technological developments in automation software have led to some pretty interesting possibilities in maintenance for organizations around the world. Multiple breakthroughs have combined in order to enhance the productivity and efficiency involved with equipment checkups and repair.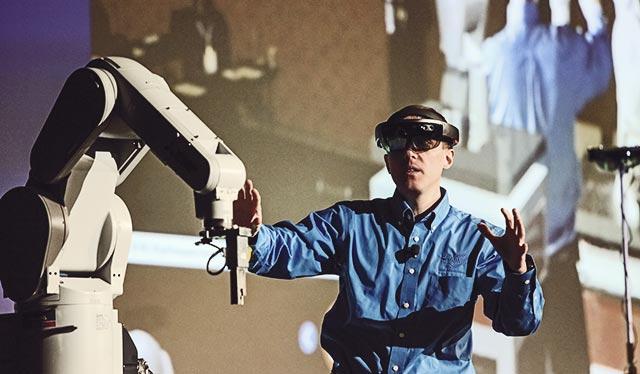 Imagine this scenario. You are a maintenance technician for Company X, an international manufacturer with locations scattered across the world. Your responsibilities include maintaining the machinery involved in producing the company's popular products. On a typical day, you receive a work order that might include a brief summary of a single piece of malfunctioning equipment, in a certain location, about which you've hopefully received enough training and background in order to return it to normal operation. All in all, a pretty regular maintenance job, right?
Let's update the scenario a bit. Once onsite, you put on your mobile holographic computer, such as a Microsoft HoloLens holographic computing device or an HMT-1 head mounted tablet class industrial wearable from RealWear. You approach the equipment in question and immediately see a pop-up 2D or 3D representation of the equipment's internal pieces. You already see possible symptoms and causes listed by likelihood, along with accessible links to more in-depth schematics and step-by-step repair videos. All this has happened, in an augmented reality field of vision right in front of you, onsite, before you even put down your toolbox.
"Piece of cake," you think as you quickly resolve the problem. Just as you finish up, you receive an additional message on your heads-up display: "While you're there…".
The combination of technologies at work in such a scenario involve Fault Detection and Diagnostics (FDD), cloud computing, and a groundbreaking new HMI/SCADA user experience with wearable devices. Each of these separate pieces provide the necessary features to free up maintenance personnel to be more proactive with time and resources, rather than continuously chasing break-fix instances or putting out fires.
Fault Detection and Diagnostics
Fault Detection and Diagnostics software analyzes all available information to detect and predict faults. It utilizes algorithms that weigh probabilities of faults and advises management, operators and maintenance personnel of actions to prevent equipment failures or excessive energy use. When failures occur, current and historical information are analyzed, along with symptom/cause relationships that the system has been taught.
Information received from such software can be used to:
Predict, reduce and eliminate equipment downtime
Automate fault detection and deliver real-time notifications (anywhere, any time and via any platform) to maintenance personnel and management
Reduce maintenance time and determine probable causes
Improve reliability and control
Cloud Computing
Many organizations are increasingly considering the benefits of moving the bulk of their data processing and analytics from on site to the cloud. Advantages of such a move include:
Increased Scalability – The computing load can now be spread over multiple/newer hardware, and accessed from anywhere, at any time, from any web-connected device.
Reduced Hardware Obsolescence – In turn, an organization's on-premises computing hardware will continue to get older and less likely to handle increasing required data speeds and storage capacity. Making the decision to switch to cloud-based alternatives means less time and expense spent on maintaining aging equipment.
Expanded Connectivity – Using a cloud-based computing solution comes with multiple integrated communication protocols (e.g., AMQP, MQTT, HTTPS, REST/JSON).
Some organizations may be early in the process of considering connecting equipment to the Industrial Internet of Things and may be able to afford to purchase equipment with such networking capabilities built in. Others, with older existing equipment, may be able to afford retrofits to gain that ability. However, many organizations may consider an alternative in the utilization of "edge" devices, also known as IoT gateways.
These IoT devices can also come pre-installed with IoT software, and provide additional utility, such as establishing a connection from on-premises data through an IoT Hub to a preferred cloud services provider, such as Microsoft Azure or Amazon Web Services, through to consuming applications such as mobile HMI/SCADA visualization, rapid data historian storage/retrieval, advanced analytics (including energy management and fault detection/diagnostics), and more. Plus, in addition to Northbound communication protocols, the IoT software suite can integrate with Southbound protocols as well (e.g. OPC Classic, OPC UA, Modbus, SNMP, BACnet).
Wearable Device Technology
In 2015, Microsoft introduced its self-contained holographic computing device: the HoloLens. The head-mounted computer provides a three-dimensional augmented reality (AR) view of process data. Soon after, ICONICS introduced the world's first 3D Holographic Machine Interface as part of version 10.95 of its GENESIS64™ HMI/SCADA and Building Automation Suite. Recently, RealWear, out of Milpitas, California, introduced the world's first industrial head-mounted android tablet, and announced integration with ICONICS HMI software technology. This combination of ICONICS software with hardware like the HMT-1™ from RealWear allows users to visualize real-time and historical data KPIs with voice driven, hands-free usage.
Featuring an intuitive, completely hands-free interface, the RealWear HMT-1 is a fully rugged head-worn solution for industrial IoT data visualization, remote video collaboration, technical documentation, assembly and maintenance instructions and streamlined inspections right to the eyes and ears of workers in harsh and loud field and manufacturing environments.
Mobile holographic computing devices provide maintenance personnel with a hands-free way to utilize data-driven displays for quick problem resolution. Operators can check real-time status of devices from anywhere across the globe, with the ability to drill down to individual equipment KPIs for immediate analysis and real-time information-based decision-making.
While You're There…
Let's return to our scenario, in your job as Company X maintenance technician. That initial service ticket certainly was a piece of cake, when you were provided with all the required information, including movable 3D internal schematics, a manufacturer's guide in PDF format, and even a live video chat with a senior technician who has worked on that same type of equipment before – all in a heads-up display superimposed over your live view of the equipment requiring service.
Just as you're finishing your repair, returning the machine to normal operation, you get a message through your mobile device, "While you're there, how about taking care of a few things that could have been trouble later on? Here's the path to the panel I need you to look at." Just then, you automatically see an arrow pointing you in the direction you need to follow. (Your heads-up display happens to use software that integrates with GPS, as well as with NFC, OCR, barcodes, and QR codes.) It takes you through the facility and just as you approach the next piece of equipment in need of repair, you see the same superimposed info to once again help you work quickly.
Combining mobile holographic machine interfaces with cloud-connected data can certainly further the proactive aspect of predictive maintenance. In our scenario, the maintenance technician had quickly taken care of what necessitated the initial job ticket. The combination of these several technologies helped save an additional trip to the same location, and the associated expenses, by identifying what additional problems could be prevented then and there.