Increased Efficiency through Improved Work Scheduling with Mobile Solutions
Digitalization is bringing forth innovation and driving progress to many areas of society and industry. More effective work processes, enhanced security and streamlined decision-making, as well as cost reduction, are at the centre of the digital transformation.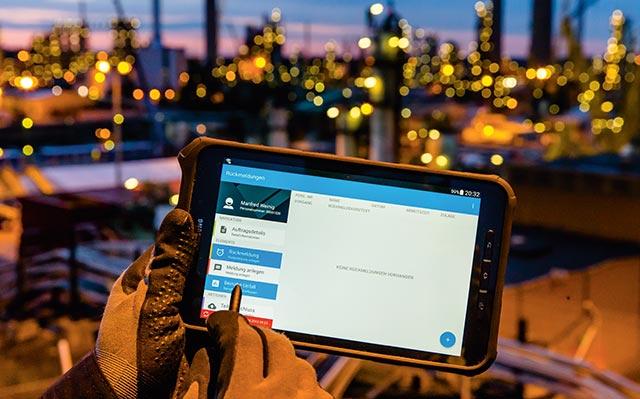 Industry 4.0 and the Internet of Things are keywords and trends everybody is talking about. The industry is becoming digitalized. For inspection purposes, however, handwritten notes or handheld computers in offline mode are still being used. Customer-orientated, mobile solutions for use in hazardous areas (Zone 1 and 2) take these needs into account – even in potentially dangerous environments.
In the typical case of an Ex-Inspection or ATEX-Inspection is the monitoring of electric machines, instruments and mechanical equipment to ensure safety on-site. Traditionally, such inspections are carried out on paper lists and clipboards, which not only add to extensive and irritating red tape, but are also highly inefficient.
Subsequently, a report on the state of the material and equipment needs to be drawn up in the office and then entered into a system. The error rate is correspondingly high and this course of action can often lead to inadequate inspection results.
Every Innovation Begins with Discontent
– I, as Head of Mobile Solutions at Bilfinger Maintenance GmbH, was especially displeased that the mechanics have to document their maintenance work in writing and then again in the SAP system, says Oliver Wichmann.
– Therefore, we were considering how to avoid the unnecessary duplication of efforts, reduce paper consumption and simultaneously increase the quality of the documentation.
With the market-leading provider of mobile hardware for use in hazardous areas (Ex-zone 1 and 2), ecom instruments, Bilfinger Maintenance has found the right partner, to provide a secure, turnkey concept for the smartphone and tablet. Despite complex requirements, an application should be developed, which is easy to use and unites procedures like documentation and safety.
Thanks to several new patents protecting ground breaking methods and a new evolutionary approach, ecom is able to offer proper state-of-the-art products, including the Tab-Ex ® tablet series, coupled with Samsung's know-how, up to the Smartphone Smart-Ex® and the PDA i.roc®, combined with new customer-orientated solutions.
The Challenge Lies in the Implementation
Pipelines, oil and gas production installations, chemical plants and refineries, tank farms and areas where large quantities of hazardous materials are stored and processed, can benefit enormously in terms of efficiency and data quality by applying mobile solutions. The challenge to date, however, is the implementation.
Backend systems are often not connected to the corporate network. In addition, even in the case of an existing wireless network, access for terminal devices of a subcontractor or service provider is often denied for security reasons. These implementation difficulties are the reason that, for inspection purposes, hand-written records are still commonly used.
With the world's first Zone 1 / 21 and Division 1 certified tablet, the Tab-Ex® 01 – based on the Samsung GALAXY Tab Active – and the explosion-proof, 4G / LTE-capable Android smartphone Smart-Ex® 01, a variety of applications can now be employed in hazardous work environments. The one of its kind PDA, the i.roc® Ci70, with its WWAN functionality also allows the user, through the use of existing mobile networks, permanent mobile data exchange and data availability, thus enabling higher levels of productivity and safety in Zone 1.
From Practical Experience for Practical Application
Daily inspections in chemical plants, refineries and other danger zones to ensure the proper function of the installation are equally important as time-consuming for companies. Typically, technicians carry out such inspections throughout the day and afterwards enter the results into the company database. Accordingly, the reaction time between detection, elimination of damage and the repair is unnecessarily high. This poses a possibly high risk for both man and material.
For almost a decade, Bilfinger Maintenance has developed practice-orientated mobile solutions for maintenance. This experience has been incorporated into the development of a new app for smartphones and tablets with which all maintenance work can be recorded seamlessly and quickly. With this application, a maintenance worker has an overview of upcoming work and can make all the necessary entries to create the activity documentation. Furthermore, he can operate the relevant safety management processes.
The in-house developed, fully integrated SAP eScheduler, is the digital planning board for workshop, work and resource planning. The Windows-based planning tool serves to visualize the assignments, distributing them to the personnel, the resources, the live monitoring, execution and much more. The specific procedures and measures can be individually assigned to the technicians and mechanics and can be transferred to mobile devices.
The maintenance worker gets the assignment displayed on his smartphone or tablet and once the job is done he can record on his mobile device which tasks he has done, how much time he needed and if so, what materials were used. The app automatically transmits this information to the SAP system.
Extensive Functionalities for Modern Maintenance
The benefits of maintenance in real time are obvious: Decisions can be made and implemented on-site. Likewise, up-to-date data is directly available to the staff in the control room. ecom's Mobile Worker concept offers some of the world's first intrinsically safe hardware (smartphone, tablet and PDA), the necessary prerequisite for data transfer and communication anywhere and at any time – even in potentially dangerous, hazardous areas or in harsh environments.
This allows the technician during inspections or the logistics specialist during the examination of goods, access to the latest information at any time. It is equally important to ensure the flow of information in the opposite direction and to make data in real-time available throughout the corporate network. This significantly improves collaboration with colleagues or experts outside the hazardous area. Decision-making processes are shortened and problems, as well as defects, can be resolved quickly and efficiently.
With the app by Bilfinger Maintenance, the quality of documentation is significantly improved. The maintenance worker can inspect with more information at hand as maintenance reports are available on the mobile device.
How often an error occurred in the past and how it has been resolved, can be accessed immediately. Also schematics or manufacturer information is displayed on the app and it provides extra support. For modern maintenance, the app provides all the necessary functionalities for multimedia documentation of activities by individual, group and inspection assignments.
Essentially Maintenance 4.0 is about one thing: Interconnection. For this purpose, it is necessary to ensure flexible and secure communication over long distances. Powerful mobile solutions take this into account and are therefore a central key to greater efficiency, productivity and flexibility.