Improve Calibration Efficiency
International standards define calibration as the comparison of the device being tested against a traceable reference instrument (calibrator) and documentation of this comparison. Integrating asset and calibration management is the next step on the path to calibration efficiency.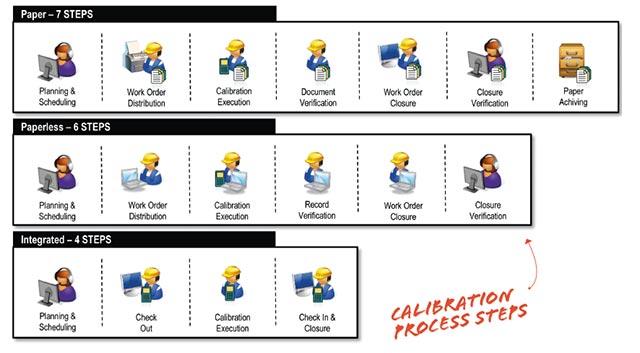 The path to calibration efficiency has already lead us from basic test equipment hardware (the traceable reference) with associated pen and paper-based documentation and management, to documenting calibrators tightly integrated to powerful calibration management software applications that enable an automated paperless calibration approach. These integrated calibration solutions have a long track record of saving time and money, and significantly reducing human error in the execution of the calibration work procedures.
Calibration Management includes defined procedures, tasks and activities for the calibration of all the relevant instruments in the Plant. Ongoing calibration is a fundamental part of instrument maintenance, which in turn is a fundamental part of the Plant's maintenance. As such the management and scheduling of maintenance personnel, and other resources such as test equipment, to perform calibration activities is usually executed via Work Orders from the Plant's maintenance management system. The maintenance management system may in turn be guided by broader Reliability or Asset Management programmes with their own associated hardware and software solutions.
The Next Step
Extending the solution by integrating the calibration management application to the maintenance management module of an Enterprise Asset Management system like IBM Maximo, Infor EAM or SAP is the next step in calibration efficiency.
Seamless Work Order data flow from the maintenance management module to the documenting calibrator and back again extends the proven benefits of the automated paperless approach to the entire calibration process.
Standardised Solutions
Integration of disparate software applications to the EAM systems has sometimes not been without its issues in the past. Now standardised integration solutions, including structured project execution methodologies, reduce risk and save time and money both on the initial integration project and on the ongoing Total Cost of Ownership (TCO) lifecycle support of the integrated solution.
Lowering the Bar for Efficiency Savings
The scalability and reduced costs of standardised integration solutions mean the Return on Investment (ROI) metrics now extend down to smaller and mid-size plant systems, and not just the larger enterprise deployments. You don't need a global enterprise's budget to afford an automated paperless approach for the entire calibration process and the benefits that it delivers.
Avoid Islands of Data
Seamless data flow that inherently follows the work process is a core facet of the Big Data / Industrial Internet of Things (IIoT). Integrating the calibration management application to the maintenance management module of an Enterprise Asset Management system avoids the isolated islands of data that cloud the clear business visibility offered by the Big Data / IIoT concepts.
So, if your EAM system has issues with manual data entry and data integrity, un-closed Work Orders, or disjointed workflows, consider a standardised integrated calibration management solution.