L4MS - A one-stop shop for SMEs for lean and agile intra-factory logistics
Smooth material flow is the backbone of any production facility. Logistics for Manufacturing SMEs (L4MS) is an acceleration program for SMEs to boost the automation of intra-factory logistics.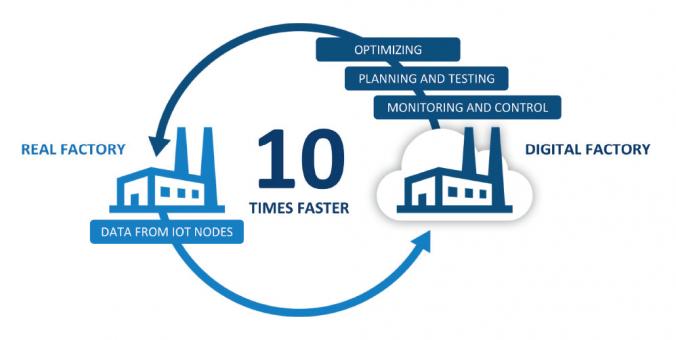 In a typical factory, the transport of parts and components accounts for 25% of the employees, 55% of all factory space, and 87% of the production time. This movement of components, tools, products, machines and people is an essential but non-value adding part of the manufacturing. The estimates show that this can add up to 50% of the manufacturing cost of a product.
While efficient material flow can boost the productivity, flexible material flow can provide the agility required for more individualization and customization of products. To minimize cost and to maximize agility, large manufacturers are heavily investing in advance mobile robots and other ICT solutions to continuously analyze, optimize and automate intra-factory logistics. In fact, today technology can deliver fully automated and modular equipment for intra-factory logistics to achieve consistently both high throughput and high quality, with a great degree of decisional autonomy to self-organize the production. However, SMEs and Mid-Caps have struggled to benefit from these new advanced technologies due to the lack of in-house knowledge, inflexibility of available solutions, un-availability of low cost equipment and need of large initial investment.
The L4MS (Logistics for Manufacturing SMEs) aims to accelerate the automation of intra-factory logistics for SMEs and Mid-Caps. It will deliver OPIL (Open Platform for Innovations in Logistics) as an integration platform together with a 3D simulator to completely virtualize the automation of intra-factory logistics. The concept is depicted in Figure 1 below.
Making it easy
Availability of OPIL+3D simulator will allow easy entry of the system integrators into logistics automation value-chain. Today, only 5-10% of mobile robots are sold via system integrators or directly to large manufacturers. In the current business model, robot manufacturers directly supply complete logistics solutions to end-users with their own mobile robots. They provide their own proprietary applications, maps, interfaces and fleet management system with mobile robots as a package. The process is extremely heavy and needs to be repeated in each sale. On average they supply around 20-30 systems per year depending on the size of the system. The end user is then locked-into one vendor and increasing the system capabilities happens only through that vendor. This limits competition and is a significant barrier for mobile robot manufacturers to reach the manufacturing SME market where the number of robots per system is small and each solution requires customization.
OPIL will be available as a ready integration platform for mobile robots and other logistics automation equipment, allowing the full utilization of system integrators in the sales and implementation of logistics systems. There are thousands of system integrators globally ranging from large multinationals to SMEs and start-ups. With thousands of system integrators and the mobile robots with less than 1% of the 1 million global forklift market, robot manufactures can be flooded with orders and system integrators can take the role of developing small logistics systems for SMEs which fits perfectly in their business model.
Making it cheap
The industrial robotics has made extensive use of 3D CAD and other virtualization tools to reduce the cost and time for the conceptualizing, commissioning, planning and programming of robotics solutions. Virtualization is one of the nine pillars of Industry 4.0 and the use of 3D simulations has shown to improve communication between suppliers and the end-user making development 60% faster, avoiding design errors and reducing the effort by 75%. System integrators can increase their capacity by 5 times to create factory layouts and develop an alternative automation solution before choosing the final one.
L4MS will bring these advances to facilitate the adoption of logistics automation for SMEs, thus removing the requirement of interrupting the production process, improving flexibility and long term productivity. For a logistics automation project, the mobile robots represent only one third of the required investment. Programming and integration actually represents 70% of the total cost of the system. This cost arises from additional technical requirements around the installation of mobile robots, such as mapping, map calibration to match the real factory, adding markers, navigation planning, route planning, etc. The OPIL+3D simulator will automate many of these tasks resulting in a 75% reduction in the installation cost. This will represent a significant saving for a manufacturing SME reducing the ownership cost and increasing the return on investment.
During the course of the next 3 years, the aim of L4MS is to reduce the installation cost and time of mobile robots by a factor of 10. This will enable the inexpensive deployment of small and flexible logistics solutions requiring no infrastructure change, no production downtime and no in-house expertise, making the investment in logistics automation more attractive for SME's and Mid-Caps in Europe. The use of mobile robots will not only automate the logistics (50% of the production cost) but will also provide unprecedented flexibility on the factory floor.
Make it everywhere
To ensure the full geographical coverage, L4MS provides an integral pan-European network of Digital Innovation Hubs (DIHs) connected to a central marketplace. The L4MS Marketplace will be a one-stop-shop, where European Manufacturing SMEs & Mid-Caps can access Digitalization services, including technical support, business mentoring and finance. The L4MS will conceive 23 cross-border Application Experiments to demonstrate highly autonomous, configurable and hybrid (human-robot) logistics solutions driven by the business needs of the manufacturing SMEs and Mid-Caps. This portfolio of 23 cross-border Application Experiments by 50 SMEs selected through 2 competitive Open Calls, will demonstrate the leveraging of European Structural Funds and private investment in established and emerging DIHs across Europe. The L4MS Marketplace connected with a network of DIHs will ensure a 'working distance' access to latest logistics automation technologies, along with non-technical services for every Manufacturing SME in Europe - whichever the sector, wherever the location, whatever the size.