Cobots place Nordic countries in the global top five
The Nordic countries have up to three times as many industrial robots as the world average. Sweden, Denmark and Finland are ranked 5, 6 and 15 on the list of countries with the most automated production. New robotics technology optimizes businesses operations, maintenance and production.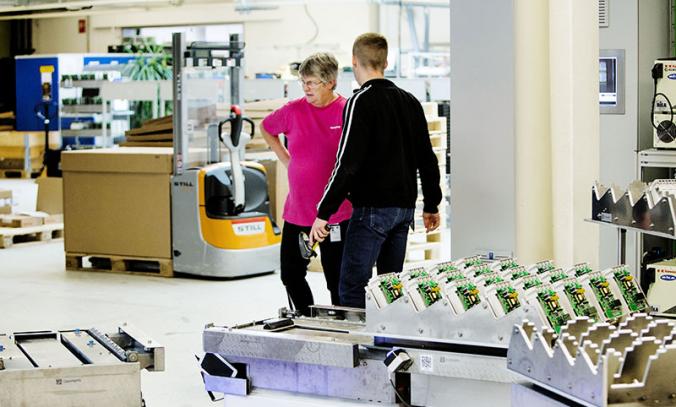 One of the reasons why the Nordic countries are now a world leader in robotics is the emergence of cobots, collaborating robots. Before the invention of cobots, robots were not user-friendly or cheap enough for the Nordic region's small and medium-sized companies. Flexible cobots allow more Nordic companies to automate numerous tasks, from assembly to polishing and painting to testing. One of the latest examples is wind turbine wings, where a 'climbing' robot with a cobot arm soon will replace technicians who now have to dangle in the air while replacing and cleaning the wings.
The robot mammoth age
When the automobile industry first implemented robots in their production, to be a profitable investment, they used huge industrial robots for large-scale production with singular, repetitive movements. The robots were so heavy, they had to be lifted in with a crane, mounted, fenced off and only programmed to one specific task. The big industrial robots are still used but are generally too costly and inflexible in a modern production facility with product variations and low volumes, in other words, a 'high-mix/low-volume production.'
Cobots' triumphant march
In recent decades, robotics has taken some giant technological leaps, creating a new generation of robots; small, and far more flexible and user-friendly cobots. Cobots are more versatile and, perhaps more importantly, more affordable. The evolved robots now offer flexible production environments where robots and people can safely work together. Cobots can easily change between 20 different tasks as needed. This not only improves productivity and competitiveness in countries with high labor costs like the Nordic countries, but also creates opportunities for producing customized products in a resource efficient and environmentally-friendly way.
What do we get out of robots?
Robots help employees become more productive and efficient, leading to better job security. They allow us to eliminate dangerous, burdensome tasks, where people work mechanically like machines. At the same time, companies can improve competitiveness and keep production in the country, decrease delivery time, increase quality and precision in products, as well as document and refine production by using collected data. In addition, robots allow for responding to large fluctuations in production without additional overtime-expenses.
Robots give employees more interesting tasks, a healthier and safer work-environment with less physical labor and better work hours, because robots can catch up on automated work orders at night.
China buys every third robot
In Asia, robots are even more important in competing in the market. In China, they automate to an extremely high degree. About every third of the 300,000 industrial robots installed globally in 2016 was delivered to China, according to International Federation of Robotics. In order to maintain and strengthen competitiveness in the global market, industries in the Nordic region must be at least as good at utilizing these technologies. In turn, the Nordic region can reclaim tasks and production that were previously outsourced to countries with low wages. Robots cost the same no matter where in the world they are implemented. Therefore, the automation wave enables you to produce locally and ensure a short delivery time and high quality.
Robots many faces
Today, robots are available in many different versions, including:
- Large industrial robots: the big classic robots are becoming increasingly more sophisticated with accessories such as 'touch and sight senses,' new types of sensors and camera solutions. They help the robots master tasks that previously required human agility, such as grinding and painting. This saves employees from being exposed to dust, noise and vapors. Robotics sensor manufacturer OptoForce develops this type of robot, among others.
- Cobots – collaborating robots: cobots are small robots that can be trained to work side by side with humans as a flexible tool for handling tasks. Since the first cobot was invented by the Danish company, Universal Robots in 2008, nearly 25,000 have been delivered globally. In the wake of this invention, there is a lot of innovation in cobot accessories, such as the flexible robot hands from On Robot. With such a solution, you can automate monotonous work such as packing. (See case study.)
- Transport robots: Self-driving cars, trains and busses. Also in this category are small self-driving robots, including one from Mobile Industrial Robots, which brings clean bedding from the assembly line to be packed and distributed in hospitals. The use of mobile robots is expected to explode globally over the next few years.
- Servicing robots such as robotic vacuum cleaners and lawn mowers, or for instance the robots from Intelligent Marking, which draw chalk stripes in sports arenas.
- Packing and warehouse robots: when finished products have to be packed and retrieved from a warehouse, robots can carry out those tasks with high precision and speed. In the Nordic region, innovation within this field can be seen by EffiMat Storage Technology, EGATEC, Tentoma and Nordbo Systems.
- Software robots and digital assistants: support, among other things, customer service, meeting bookings, product support, administrative processes thanks to speech recognition, artificial intelligence, machine learning, etc. For instance, Automation Lab makes advanced decision-support systems. The robot, X.ai can arrange meetings.
- Care robots: handicap aids such as exoskeletons, intelligent prostheses or the therapeutic robot, Paro the seal.
- Agriculture and food production: a lot of exciting development is happening within vertical farming, a high-tech cultivation technique without soil using natural light in high-rise buildings.
- Hospital robots are implemented in surgery, medicine packing, blood sample sorting and much more, for instance as seen at Gentofte Hospital.
- Disaster relief robots: used in case of accidents, natural disasters, etc.
- Humanoid robots: human-like robots
- Military robots
Text: Malene Grouleff