The Importance of Digital Twins in Asset-Intensive Industries: How digital twins can accelerate your digital transformation
As the physical assets within your business become more digitally mature with the Industrial Internet of Things (IIoT), there is a need to harness the data generated and to leverage historical and design information that covers asset lifecycles. With modeling, sensor data, visualization, and analytical capabilities expanding all the time, it is now possible to merge these technologies to create a digital representation of any physical asset.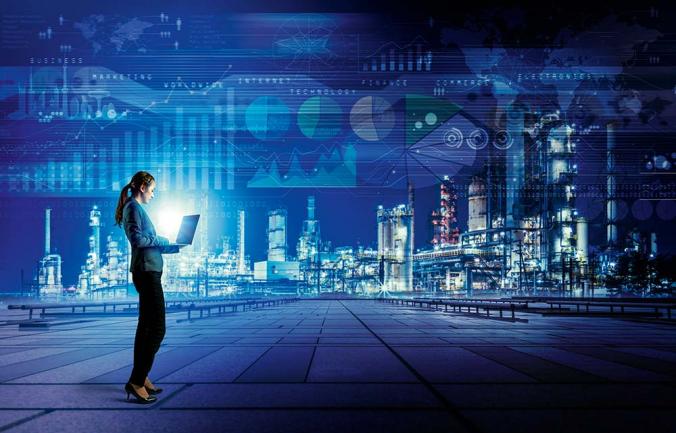 cent of the population are visual learners. Delivering business intelligence visually improves productivity, accuracy, and efficiency. Digital twins are enabling immersive digital operations so multidiscipline teams have the flexibility to work day-to-day in a visual environment that displays complex asset data intuitively and in context.Immersive digital operations enable you to view current asset information through 3D models and reality meshes. Select an element in a graphic view and display the underlying data related to the asset, including related 1D, 2D, or 3D models, associated documents, maintenance history, geospatial coordinates, degradation data, and more. The information that aligns the entire organization on achieving the same goals, connecting the strategic asset management plan with operational and maintenance activities, or "line of sight", is also available through easily configured dashboards and reports, presenting trend analysis and key performance indicators (KPIs) for robust and reliable decision support.
A digital twin is a digital representation of the physical asset, process, or system, as well as the information that allows it to understand and model its performance by combining operational and IT information with engineering (modeling) data. Digital twin models can help organize data and align it into interoperable formats so that it can be used to optimize asset performance and reliability. This is done by replicating the behavior of the physical system or asset so that any change in the physical is instantly updated within the digital.This real-time updating proves that a digital twin should be more than just a standard 3D model used as a visualization tool. The digital twin should be "living and evergreen" and from which business value and critical decisions are directly made.Digital twins are realistic digital representations of physical things. They unlock value by enabling improved insights that support better decisions, leading to better outcomes in the physical world. There are many benefits and advantages a digital twin can provide that affect the whole organization. These can include:
Maintaining immersive visualization for comprehensive and continuous design, asset information, and performance on new or existing assets with virtual representative models to support effective decision making and optimize business outcomes across the entire lifecycle from design and build stages to operate and maintain
Gathering and displaying real-time data feeds from sensors in an operational asset to know the exact state and condition, regardless of location
Utilizing digital twins on all lifecycle stages of the asset, from the design stage to the monitoring of safety equipment on rigs, such as drills or pipelines, or model drilling and extractions to determine whether virtual equipment designs are possible or not
Improving operational and asset performance
Improving engineering and maintenance efficiency by reducing need for on-site visits
Improving training and reduced time to train, especially with augmented reality
Detecting early signs of equipment failure or degradation and moving from reactive to proactive maintenance through IoT enablement
Consolidating multiple sources of data, and then proactively planning and implementing corrective maintenance actions before costly failures and downtime occurs
Central to any successful digital twin is an open, connected data environment – this means the physical world is directly connected to the digital, e.g. combining operational technology (OT) data from sensors, data historians, etc., in one common environment.Key to connectivity is a set of cloud-provisioned or on-premises services that support digital context, digital components, and digital workflows, what Bentley refers to as a connected data environment. This means you can manage and access consistent, trusted, and accurate information, while sharing the benefits of an open, integrated, and connected framework to enable collaboration, improve decision making, and deliver better project outcomes and better performing assets.
Use across greenfield and brownfield sites
For greenfield sites, it would be ideal to create a digital twin to maintain an accurate, up-to-date, accessible picture throughout the lifecycle to reduce time to operational readiness and influence time-to-market. Bentley's PlantSight solution is the ideal tool for greenfield sites because it takes all your plant and process information together, contextualizes it, validates it, and visualizes it – transforming raw data into a complete digital twin.For brownfield sites with aging assets, such as those found within the oil, gas, and energy industry, assets can be between 20 to 40 years old or more. So, how can a digital twin help assets that are nearing end-of-life or are working beyond their estimated designed life? Digital twins can still be applied to older assets to gain the same benefits across their remaining life, extending their remaining life safely and reliably by applying risk-based and reliability-centered methodologies. Into the decommissioning phase, the same rigor is required to maintain information integrity as when the asset was operational.Even if your starting point is operations and you don't have a 3D model, Bentley's ContextCapture can provide reality meshes for existing and under construction assets to provide accurate visualization and up-to-date conditions.The ease with which this twin can be updated during operation or modified during projects supports the need for increased flexibility and adaptability. The seamless and ongoing integration of process engineering, maintenance, 3D representation, and operational performance information, speeds up and supports continuous improvement and thereby efficiency, sustainability, and return on asset investment. Owner-operators can combine the solution with asset management best practices to improve useful life and asset value, with Bentley's AssetWise ALIM solution. The digital twin makes it easier to engineer for safety and compliance and verify the as-built and as-maintained facility.
An Immersive Experience
The word "immersive", when relating to a computer display or system, means generating a three-dimensional image that appears to surround the user. While digital twins can use 3D models to provide context and more visibility of the physical object, the next evolutionary step is to create fully immersive digital operations, which could also incorporate virtual and augmented reality to create a fully immersive picture. To make a digital twin more relevant and beneficial than a simple 3D model, the digital engineering model needs to be combined with reality meshes, as well as be connected to various asset information sources that often reside in different departments within organizations. The ability to see through the eyes of operators in the field in real-time using reality meshes has become feasible with technology advancements from organizations like Bentley.While mobility, cloud services, the Industrial Internet of Things (IIoT), automated processes, and analytics are the core digitalization ingredients, for a fully immersive experience, a mix of realities like augmented and virtual, and an open modeling network, must be implemented to realize immersive operations. To make this successful, all the initiatives must be connected and communicate to each other in a single environment. A leading independent design firm serving the oil and gas industry in southern Russia, LLC Volgogradnefteproekt was retained to deliver an as-built 3D digital model for the seven platforms commissioned for the Vladimir Filanovsky offshore field in the Caspian Sea. As an example, LLC Volgogradnefteproekt reduced their annual operations costs by 30% by implementing a connected data environment to facilitate the management of their critical information and 3D engineering data. This helped them speed up search and data exchange, coordinate document management, and reduce human errors significantly.Some industrial infrastructure organizations are notorious for isolating their own technologies, applications, and processes, with little or no interaction between other parties. This culture is slowly changing, and it is why companies like Bentley are focused on an open connected data environment so that all data is trustworthy, reliable, accessible, and shared among all relevant stakeholders.
Digital twins are at the heart of digitalization and digital transformation
Digital twins are taking centre stage and advancing rapidly beyond building information modeling (BIM), enabling asset-centric organizations to converge their engineering technologies, operational technologies, and information technologies into a portal or augmented/immersive experiences. With the application of artificial intelligence (AI) and machine learning (ML), immersive digital operations will provide analytics visibility and insights to enhance the effectiveness of operations staff and help them anticipate and head off issues before they arise and react more quickly with confidence.The true benefit of digital twins can be seen when all aspects of an asset, such as design, real-time processes, and data, are optimized together over its lifetime. Infrastructure projects require a digital transformation, with a solution such as the digital twin at the heart of it, to succeed. Digital twins should be looked at as an enabler of the move toward digitalization. To be successful, companies must adopt an agile approach to developing digital twins that can start off small and then be scaled upwards and delivered to the end-users in a timely manner, leading to the overall improvement of performance, safety, and risk that go toward achieving operational excellence.