Competency Requirements for Future Engineers
Industry as well as academy put emphasis on other competences than the core engineering competencies of today. This is reflected in international engineering education standardization initiatives such as CDIO (www.cdio.org) or The Washington accord.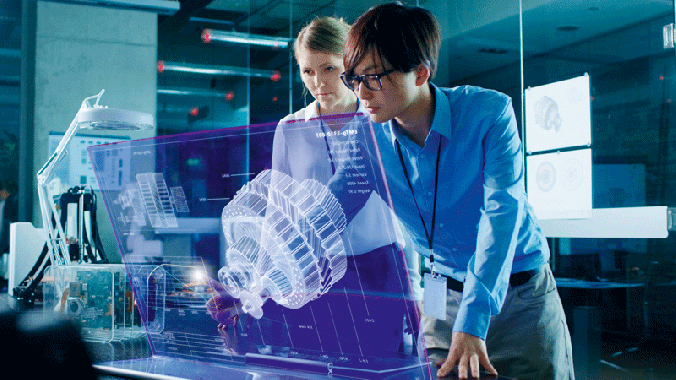 When referring to core engineering competences we typically mean knowledge in mathematics, natural science and generic engineering science, as well as experimental and analytical abilities. These are tightly connected to the students' own learning, i.e., abilities that the individual student possess (disciplinary knowledge and reasoning, and personal and professional skills and attributes), and that reflects the traditional way of viewing the engineering student; someone that is an expert within a narrow subject area and that works alone.
In contrast to this, the interpersonal skills as well as the holistic and systemic perspectives are, and will become, more important in the future.
Interpersonal skills are for instance the ability to work efficiently in teams, as well as leading and managing interdisciplinary work. Communication skills are also important; the engineer should be able to speak and write and adapt communication method and style depending on the context and the audience. This includes the ability to listen, to discuss, to argue, and to work with negotiation and conflict solving. Communication skills in the native language is important, but also in other languages (mainly English), as engineers often work in an international context today.
The holistic understanding covers understanding the full life cycle of the product and system, i.e., knowledge of how to conceive (conceptualize), design, implement, and operate products and systems. In addition, the understanding of enterprise, societal, and environmental contexts is also important. The engineer will affect, and is affected by aspects such as economy, environment, or health, and must be able to create sustainable products and systems.
The longest life cycle phase, as well as the phase showing up highest relative costs, is the operational phase. Therefore, from my perspective, this phase should be emphasized more. Efficient maintenance management would for instance prolong the useful lifetime, which fits well with the sustainability trend we can see. Maintaining, modifying and reusing products and materials, are all aspects of the circular economy, which is a very important topic today.
Why have the competence requirements changed? What is the influence of new technologies?
Requirements change due to changes in society. We can see a clear change towards globalization, sustainability, and knowledge as an asset in today's world. Engineers will be affected by, and have an effect on this by conceiving, designing, implementing and operating new solutions. Many of these solutions are technological. One can say that the technology is an enabler for the changes, but also that new demands require new types of technology solutions. It works both ways!
Are Nordic countries in general ready for the changes? What is the current situation in Sweden?
In general, I would say yes. The Nordic countries have already made many changes in the engineering curricula. Other countries, especially in Asia and Africa, have not come so far, but many countries are also making a huge change. For some countries it is a full paradigm shift, going from one way of educating to another, and that is often hard, especially if resources are lacking. For the Nordic countries the change has been ongoing for quite some time and is easier to manage.
We can see that the engineering education has changed over the past decades in Sweden. Interpersonal skills in particular have been emphasized a lot – nowadays engineering students often have experience of working in teams (mainly disciplinary teams), and they have trained their communication skills during the education as well. The holistic context, in which sustainability aspects are connected to engineering has also developed. Today engineering students take courses within industrial engineering, environmental aspects, or sustainability. Some programs even include full courses in engineering ethics.
Nevertheless, it is hard to change the education system, and sometimes one can hear that people are afraid that the core competences and knowledge are weakened when other competences should be added. In a worse case scenario this could become true – only emphasizing teamwork, interdisciplinary work, communication, or putting engineering in a societal context would be devastating; we would get engineers that can write and talk but not solve engineering problems! Engineers of tomorrow really need the core competences in the future as well. They are the basis for other competences, see figure below. They also need the personal and interpersonal competences… The trick is to integrate the interpersonal and systemic understanding in regular courses, I believe (just as the CDIO initiative).
In the industrial maintenance field specifically - what are the key competencies required today and in the coming years?
The key competencies are of course a basic understanding in maintenance and reliability engineering, even in the future. But something that I think is emphasized more and more are competences in maintenance planning and management, and especially performance monitoring. This is especially true for companies that outsource maintenance: Instead of being excellent in executing maintenance actions, the capability to procure, plan and follow up maintenance activities are becoming the core competence. Even for other companies, the ability to connect maintenance with strategic business goals is important.
Another key competence is handling maintenance-related information. This spans the ability to identify relevant information (including condition information), to apply relevant analysis methods, and the ability to interpret results for decision making.
How is the education system in Sweden ready to face the competency needs of industrial maintenance in the future?
Not too good at the moment. In fact, most engineering students do not even take any maintenance related course at all. This is unfortunate, as maintenance is one of the areas that could be made more efficient, and thus enhance productivity, efficiency as well as effectiveness. Maintenance is also a means to impact other sustainability issues such as safety and health.
Mirka Kans, PhD, Linnaeus University, Department of Mechanical Engineering