Wireless Sensors Can Now Replace Traditional Systems in Condition Monitoring
Online condition monitoring has been waiting for wireless solutions for over 10 years. Now with the latest technology, Nome has been able to develop wireless IoT systems to be competitive with most wired systems.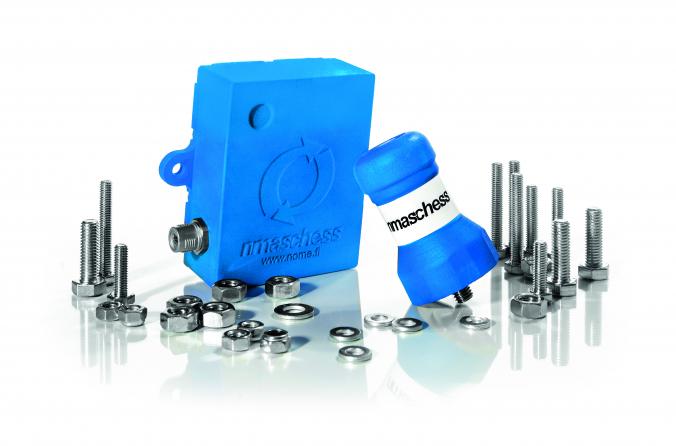 Mechanical wear is inevitable in all machines and equipment and bearing failure is one of the most common faults in industrial machines. Vibration measurements of rotating machinery are considered the best method of determining a machine´s condition. Depending on the industry one unplanned downtime can cost from several thousand up to millions of euros in just one hour. A single failure prevented is can be enough to cover years of wireless condition monitoring costs. In any case, there are benefits other than direct cost savings. Keeping track of machine health ensures good product quality, safe operation, minimal environmental impact and preserves assets.
Now with the latest technology Nome has been able to develop wireless online systems to be competitive with most wired systems. Wireless sensors can measure time signals, waveforms, trend values, envelopes and surface temperatures. All saved to a secure cloud storage or via interfaces to customers internal systems. To get the most out of online condition monitoring Nome also offers a remote analysing service where certified professionals can analyse the results.
Why Wireless Technology is Now the Way to Go?
With thousands of wired accelerometer installations we have experienced wiring to be the most time consuming and many times even the most expensive part of online condition monitoring system installation. Moreover, wired systems are often exposed to electrical interferences. In many cases there is no sense to start building up an online condition monitoring system for only a few critical machines, while start-up costs get very high per measurement point. Often there is not enough down time to perform the installations for wired systems.
Condition monitoring has been waiting for wireless systems for more than 10 years. Nome took part in testing wireless systems already in 2010. Back then the problem was high power consumption of vibration sensors and wireless data transfer. Good quality vibration measurement requires sample rates close to 10 kHz and with a signal length of 3 - 5 seconds. Vibration signal analysis requires the time signal to be available for analysis. This means high power consumption on both measurements and data transmission. When comparing to example temperature measurement one good quality vibration time signal can include 30 000 samples when one sample temperature data with 60 second sample rate requires 30 000 samples in approximately 20 days (30000 / (60*24). That is why vibration measurements require the best sensor and data transmission techniques. Optimising the power consumption engineers need to compromise. When these optimizations are done compromising the data quality in measurements or analysis the whole idea why measurements are done is lost.
Nome has solved the problem with power consumption by combining BLE5 and LPWAN data transfer technologies. These are two extremely low power technologies and they are most suitable for IoT sensors. LPWAN can also penetrate walls and other barriers more easily. Machines run inside thick walls, ships, and other structures so this can be a crucial factor when thinking of using wireless systems for condition monitoring. LPWAN technology with implementations is coming along with the new 5G networks. This gives even more reasons to utilize the technology.
Wireless technology is also suitable for Artificial Intelligence. AI can open whole new ways on how machine maintenance and condition monitoring is executed. The technology already exists but there hasn't been a sensible way to collect enough data for AI until now. Now with the right algorithms and accurate sensors machine learning is possible for condition monitoring. The AI could learn the behaviour of each individual machine and compare it to other similar machines. This reduces the time needed to analyse results by personnel. In other words, artificial Intelligence could replace humans in vibration measurements. The time saved from basic measurements can be harnessed for more complicated work such as problem solving or special measurements.
Benefits of Wireless Condition Monitoring in Short:
Reduction of unplanned failures
Reduced overall maintenance costs
Increased asset life
Improved equipment performance - Key Performance Indicators (KPIs)
Reduction/elimination of collateral damages
Prioritized and planned maintenance actions
Increased efficiency of maintenance management
Avoiding opening up of equipment at fixed intervals
Reduced environmental impact
Savings from route measurement costs
Savings from startup costs
Daily monitoring
Almost immune to electrical disturbances
Remote data collection, analysis and reports
Can be installed by own staff
Wireless nmas Chess Condition Monitoring System
nmas (nome monitoring and analysing system) Chess is most suitable for machines that have no previous monitoring system or old systems that are outdated. Connection to the analysing database is established automatically and the installation can be done by anyone. Warning and alarm limits and threshold levels can be adjusted with an Android application to suit individual machines and needs. nmas Chess is the world's first wireless condition monitoring system to utilize LPWAN network. Multiple sensors can be connected via BLE 5 to the router which transfers information to cloud service using LTE-M network. This results in a system that is ready for the future needs without sacrificing any functional quality or battery life.
Simple steps for installing nmas Chess system:
Mount the sensor using M8 thread, magnetic base or adhesive.
Mount the router to a suitable distance and power with USB cable provided.
Install the application and configure the sensor to suit your needs.
The system features:
wide frequency range 0 – 10 000Hz
24-bit resolution
Highly developed analysing software with browser access
Remote analysing service
Android app
Cloud storage
Nome has also developed the system to be suitable for OEM. Thresholds, warning limits, alerts, data interface and even the design can be customized to meet the needs of different manufacturers. By offering an online condition monitoring service, manufacturers can add significant value to their products. Sensors can also deliver valuable usage information to manufacturers. This data can be used when improving warranty policies, developing new products or offering new services to customers. The system is easy to send with the machine to the customer.