Team of one can get things done
For a maintenance technician, sometimes responding to a job/call/ticket can make you feel like you're "on you own", especially in instances where you might not be immediately familiar with the given situation. This can be due to responding to a certain location for the first time, accessing new equipment, maybe performing new procedures with new tools, etc.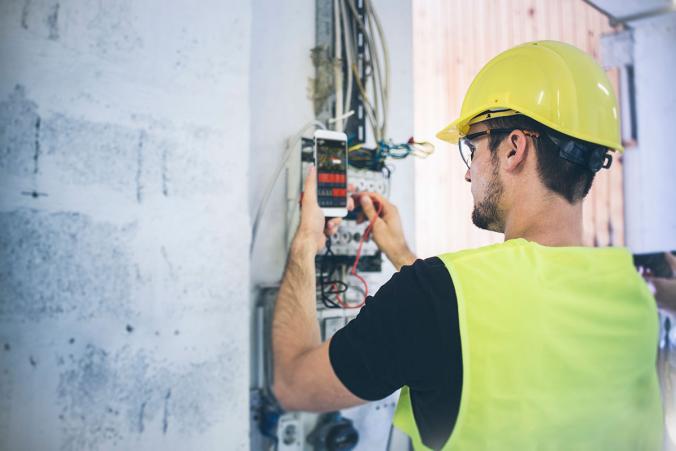 That isn't to say that you haven't been well-trained or aren't capable of getting the job done on your own. It just might make things a bit easier on you if you felt you had some reinforcement in those instances. That doesn't necessarily mean only responding to calls with at least a team of two. Sometimes that kind of perceived backup can be provided through technology.
Connected Field Service
Right off the bat, it would probably instill a bit of confidence in your abilities if you knew that each time you were assigned to a call that your organization was certain of that decision.
ICONICS CFSWorX™ is a software solution designed to streamline the efficiency of field service organizations through intelligent scheduling and reliable notifications. With an easy-to-use map overlay, the software allows organizations to see exactly where their field service workers are at all times. When an alarm or fault is triggered at a nearby site, CFSWorX then calculates the proper worker for the job based on their location, schedule, availability, and skill level. The software can be easily integrated into an organization's existing Enterprise Resource Planning (ERP) and/or Customer Relationship Management (CRM) systems, utilizing existing contact information, schedules, and field workers' catalogued skill sets.
IIoT Connectivity and Fault Detection & Diagnostics
Once you've been selected for a maintenance call, you'll be equally reassured by the scope of connectivity via the Industrial Internet of Things.
ICONICS IoTWorX™ software is the bridge between your enterprise and ICONICS proven HMI/SCADA, analytics, and mobile solutions running in the cloud. Via ICONICS' solution, buildings, facilities, and equipment can be connected through secure TLS encryption and Microsoft Azure. Data in the cloud can be accessed from anywhere through a publish/subscribe architecture for real-time visualization of KPI data at the edge. IoTWorX delivers an efficient, secure connection to the cloud through bi-directional AMQP for Microsoft Azure, as well as MQTT, REST, and WebSockets for third-party cloud providers. With ICONICS in the cloud, data is more accessible than ever.
ICONICS Fault Detection and Diagnostics (FDD) tools help organizations get out of the break/fix cycle by proactively detecting and diagnosing faults. The technology incorporates a standard library of fault rules that can be customized to predict equipment failures and advise personnel of preventive actions. Before the emergence of FDD software solutions, many organizations relied on institutional knowledge in order to fix or maintain their wide variety of equipment. This type of info (symptoms, causes, and recommended actions) may have only existed in the heads of senior personnel or, if lucky, in print or electronic archives. ICONICS FDD software integrates that level of information into algorithms to help organizations move to more modern, more cost-effective predictive maintenance.
Holographic Machine Interface (HMI) and Remote Expert Mode
So you're trusted enough to be selected for the job. You're connected by modern networking technology and informed through facility-based analytics. What's left? Newly emerging technology can make individual maintenance technicians feel like they're part of a larger on-site team.
ICONICS has recently further developed its Holographic Machine Interface (HMI), which extends HMI/SCADA and visualization technology for use with the latest hands-free, wearable computing devices. Augmented reality allows for uses such as on-screen documentation for the equipment being maintained. But that's only one possible aspect.
Augmented reality also allows users to benefit from Digital Twins, where data from sensor-connected equipment can be accessed anywhere (often over the Internet of Things) to create a real-time, virtualized model for monitoring and control. Digital Twins provide new mechanisms for training by projecting a simulation of the task at hand alongside the physical equipment. It also improves collaboration and enables 'virtual' access to physically hard-to-reach areas. Using this concept, 3D schematics of connected equipment could allow technicians to see into the inner workings of a machine in order to analyze its current operating condition, as well as how to resolve any associated faults.
Using similar wearable technology (a head-mounted display running software visualization tools such as those offered by ICONICS), a technician could also invoke a 'Remote Expert' mode. A live video feed from the headset can be streamed to a different off-site technician; one who may have more experience with the equipment in question and can assist the on-site technician through any required repair steps.
It is this integration and combination of ICONICS automation software solutions that provides maintenance organizations, and their individual workers, the modern tools to get the job done. With ICONICS, you might be the only maintenance tech on site, but you certainly won't feel like you're on your own.
Visit ICONICS at SPS 2019!
Come experience the latest automation software solutions to assist maintenance organizations at SPS (Smart Production Solutions) 2019 at Nuremberg Messe, Nuremberg, Germany, from November 26 – 28, at Hall 5, Stand 360