Safety (and Productivity) in Numbers Assisting Maintenance Technicians in Today's Work Environment
The working environment for today's maintenance technicians is tricky. The COVID-19 pandemic has certainly changed the way that many people perform their jobs around the world. At the same time, many maintenance technicians may have found that their workload hasn't changed too much, or may have increased due to related factors. In either case, the work still needs to be done and it's often reassuring for on-site techs to know, sometimes through modern technology, that they're not alone in their responsibilities.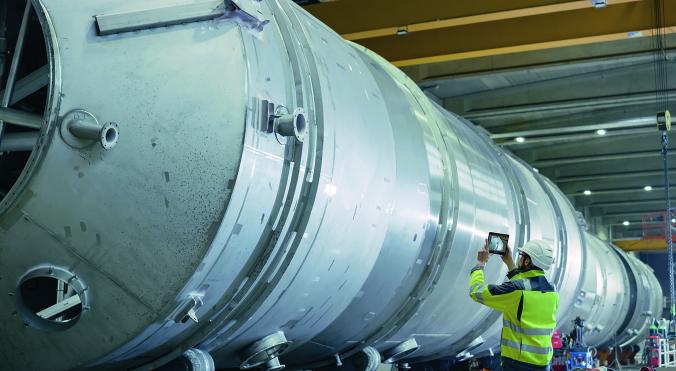 ICONICS (https://iconics.com), a global automation software developer and member of the Mitsubishi Electric Group, has created multiple software tools that can help maintenance technicians, and other employees throughout an organization, remain productive while simultaneously adhering to current social distancing requirements. A specific combination of these solutions; featuring connected field worker/remote expert capability, IIoT connectivity, and fault detection and diagnostics (FDD); is specifically recommended for those involved with maintenance management and operations.
Connected Field Worker/Remote Expert
Since the emergence of the COVID-19 pandemic, many organizations with maintenance requirements have sought the right
combination of employee collaboration mixed with required social distancing. To aid in these efforts, ICONICS has introduced its CFSWorX™ connected field service solution, with integrated remote expert feature. CFSWorX empowers organizations to alert the right field worker to respond to equipment service needs. It contains a set of digital tools that provide real-time monitoring of field equipment, real-time monitoring of service worker availability and location, and alerts to field workers when field equipment requires service.
In addition, CFSWorX can be integrated with Remote Expert assistance features. In this challenging time, companies are embracing video conferencing, chat, and dispatching of remote experts to resolve issues and provide support and collaboration. CFSWorX with Remote Expert functionality helps to guide field technicians and customers with live annotations, as well as utilizes live video and audio streaming with remote experts to improve issue resolution and remote knowledge sharing. This solution can be used through technicians' existing mobile devices, as well as through head-mounted computing devices such as RealWear's HMT-1, for instance.
NOTE: ICONICS is offering FREE use of its CFSWorX solution for the remainder of 2020 for new applications. Those interested can inquire about the free trial offer at https://iconics.com/CFSWorX-free .
IIoT Connectivity
How does IIoT connectivity assist with these same safety and productivity concerns? IoT-integrated software can provide the trusted connection to an organization's equipment to provide extensive remote monitoring and KPI analysis, which can assist in maintenance task assignment. Real-time conditions can be determined off site, which can sometimes reduce the need for on-site investigation or determine a reduced number of required personnel.
IoT-connected software also helps to provide the up-to-the-minute detailed information that maintenance personnel need when they are required to be on site. ICONICS IoTWorX™ IoT software for any edge device provides the bridge between an enterprise and ICONICS' HMI/SCADA, data analytics, and mobile solutions running in the cloud. Customers are able to take advantage of key IoT technologies including connectivity to digital assets, secure cloud communications, and built-in real-time data visualization.
NOTE: ICONICS has announced virtual machine offers on the Microsoft Azure Marketplace that contain the complete installation of GENESIS64™, Hyper Historian™, IoTWorX, and AnalytiX® Suite, currently available for the recently released version 10.96.1 and previous version 10.96. Leveraging these virtual machine offers on Azure accelerates the onboarding of new projects or lets users quickly test out new functionality without lengthy installation times or having to procure new hardware or equipment from IT. Visit https://iconics.com/azureoffers for more info.
Fault Detection and Diagnostics (FDD)
In tandem with IoTWorX IoT connectivity integration, ICONICS' Fault Detection and Diagnostics (FDD) technology can help determine whether certain conditions warrant an on-site technician in the first place. ICONICS FDDWorX™ incorporates algorithms that weigh the probability of faults and advises management, operators, and maintenance personnel of actions to prevent equipment failures or excessive use of energy. When equipment failures occur, the solution provides automatic guidance to a list of causes sorted by probability, resulting in reduced downtime and lower costs to diagnose and repair.
FDDWorX collects equipment process data using industry-standard data collection mechanisms. It can automatically generate alert notifications and reports. Operators can use real-time displays to analyze relevant data such as the status of equipment operating outside rules parameters. FDDWorX helps organizations evolve from a legacy break-fix maintenance method to a more proactive one, using insights from data analyses to make smarter technician assignments and decisions, including whether or not to even send personnel on site at all.
Connections for the Task at Hand
The successful maintenance departments, and organizations in general, that emerge from this global pandemic will be those that can make rational, data-driven decisions to safely keep their business processes up and running. Such decision-making is enabled through vendors such as ICONICS and through modern software solutions such as CFSWorX, IoTWorX, and FDDWorX.
This combination of software tools can help maintenance departments triage which job tickets absolutely require on-site technicians, help decide which field worker is best to assign and seamlessly notify that person with the required details, provide real-time equipment operational data (as well as schematics, if necessary) via IIoT connectivity, and even provide the on-site tech with connection to a remote coworker who can apply their own years of expertise and familiarity to the task at hand.
Maintenance tasks can often seem like an individual effort, perhaps even more so during the pandemic. In these challenging times, through technology solutions such as those from ICONICS, it may be reassuring to know that even when you're alone on a job, you still have connections. To see these technologies in action, check out ICONICS' virtual event, Connect 2020: Digital Transformation Solutions for a New Normal, streaming on October 15. Register ahead of time or view the sessions on demand by visiting https://iconics.com/Connect2020 .