SDT Ultranalysis® Suite 3 Software
The new SDT Ultranalysis® Suite 3 software offers more than ever and answers daily needs of Condition Monitoring and Reliability engineers: actionable conclusions based on concludable data.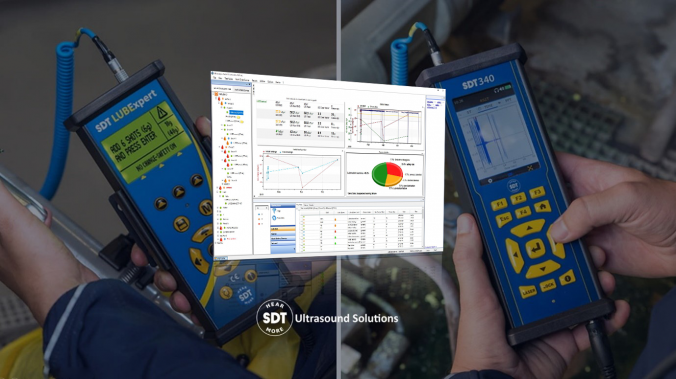 More data is always good news, but good data is surely an excellent news when you need your software to be your Strategy Center. UAS3 provides great flexibility for any type and combination of assets by being compatible with SDT 340, LUBExpert and SDT 270, making your monitoring and analysis much easier and you assets safe.
Flexibility and proper management of your asset database is achieved through hierarchical tree structure, tree structures grouped in data folders, unlimited tree structures and data folders, tasks managed through work order/surveys, predefined interval for data collection, detailed measurement point settings, detailed events log. As a result: all available information about asset itself, planned tasks, collected data and asset health indications easily accessible for each asset, assets group or plant section.
Modern Reliability improvement approach considers multiple Condition Monitoring technologies, as one group, and Lubrication department as another one, as inseparable when conclusion of asset health needs to be delivered. In synergy of proactive and predictive, UAS 3 enables you to have a complete overview:
That should be the first concern.
UAS3 provides sensor identification, amplification in moment of measurement, calibration data, acquisition time, operator, date and time, location ... make sure all match and move on to next step.
Is Ultrasound, Vibration, and Temperature data within expected limits?
Is any of those values showing any change?
Is my asset OK?
These three critical questions need to be answered fast and with confidence.
UAS3 provides meaningful indicators for primary data overview through triggered alarms and clear and customizable trends.
Alarms play an important role in efficient Condition Monitoring and UAS3 alarms will trigger on each of 81 different values for each measurement point (where Ultrasound, Vibration and Temperature is measured), guarding the health of your asset and notifying you on exceeded values or suspicious change in trend. 81 guardians properly set to look in the right direction!
Trends capture change and UAS3 trends display is fully customizable, showing you: what you want to see, what you want to compare and how you want to see it, displaying alarm levels, events and selected values simultaneously.
How easy and fast you can answer the basic question: "Is my asset OK?" makes a huge difference, allowing you to focus on assets that really need your attention. UAS3 is your filter, to make it easy.
If your asset "Is not OK", and we are talking about rotating machinery, it is common (and correct) to check first Lubrication as possible cause.
UAS3 enables you to have easy access to your LUBExpert team data and eliminate or accept Lubrication condition as possible cause of anomaly. Equally, your LUBExpert team will provide indication for suspected bearing failures, all in one common UAS3 Strategy Center.
If, and when, it comes to the point that there is enough indication to look at the data deeper, your Ultrasound and Vibration data is represented in Time Domain and Spectrum.
UAS3 is equipped with all needed tools to perform reliable analysis and deliver actionable conclusion. Your analytic workspace contains a list of highest impacts, cursor data, ∆ time of frequency between impacts or events, marker details and analytic tools such as periodic cursors, delta cursors and markers.
Once your analysis is done, you can export the plot and add it to your report.
Additionally, your UAS3 will display all events, observations and messages logged during the field work (both automatic and manually added) and during office work, such as lubrication need, alarm triggering, oil levels, operational anomalies, and maintenance activities. All this information can play critical role in analysis as each event explaining circumstances can give more meaning to any signal.
If it is recorded and displayed, of course. UAS3 does exactly that.
The entire process is simplified to:
strategy needs to be built
tasks executed
results reviewed and conclusions delivered
process controlled
strategy adjusted
It is not an easy task, but it does not need to be a painful and hard one. With the right tool, UAS3, you can focus on what really matters – delivering benefit to your organization.
At the end of the they, it is all about you.
Your UAS3 will display all events, observations and messages logged during the field work and office work.
TEXT and IMAGES: SDT