Four innovations awards...no coincidence
Here are reasons why SDT Ultrasound Solutions has been rewarded the last two years.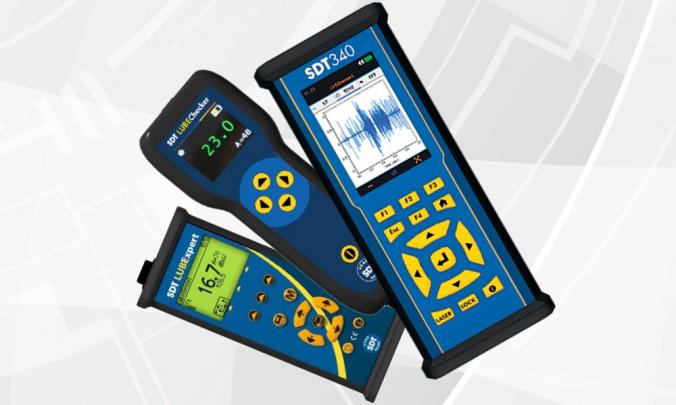 1 – SOLUTIONS rather than products
SDT Ultrasound Solutions makes reliable products and design them to be solutions. We do not clutter our design with fluffy features that provide no real value for the end user. We do not window-dress our offer to mislead the consumer. We produce solutions that give our customers a better understanding about the health of their assets and the reliability of their plants. No compromise, no sell-outs, only solutions.
2 – Acoustic Lubrication
For greasing to be effective, it must be tailored to the real needs of rotating machinery (right time, right lubricant, right amount). LUBExpert , a modern, fully developed ultrasonic detector is the answer expected by lube technician.
3 – LIFETIME WARRANTY
Innovative solutions must stand the test of time... and your workplace. SDT Ultrasound Solutions manufactures the most reliable instruments in the condition monitoring business. We know it and we put our money where our mouth is. Lifetime for SDT means 10 years after obsolescence. So, all solutions sold today, might still be covered by warranty in 2050.
4 – focUS Mode
focUS mode (available with SDT340 ) is a new way to enhance analysis of machines; especially gearboxes and slow speed mechanical assets. With focUS mode we can select from 64, 128, or 256k samples per second. We can see rubbing, scratching, impacting, gear mesh, reciprocating valves in focUS mode that remain hidden in standard sample rates. This supports our Reliability Partner vision of ZERO unplanned downtime by allowing us to do deeper analysis and find hidden defects.
5 – Headset Volume Precautions
Independent volume/sensitivity adjustment and SDT's written assurance that inspectors will never be exposed to noise levels higher than national governed standards. No other ultrasound gun can make that claim. Why go deaf when you can #HearMore.
6 – Crazy Long Data Acquisition Time
Up to 10 minutes per measurement! Imagine a bearing turning so slow you need 600 seconds to capture 3 full rotations. What do you do? Set your SDT340 to 10 minutes, plug in your ultrasound and vibration probes, hit record and enjoy your coffee.
7 – Swiss Army Detector
Four technologies in one: Ultrasound, Vibration, Temperature, RPM. No other device offers this level of versatility combined with ease of use.
8 –Clear Colourful Display
Clean, clear colour display featuring zooming Time Waveform and Enveloping FFT.
9 – Apps & Software solutions
Connected Solutions: LEAKReporter , SHERLOGReporter , ULTRANALYSIS 4.0 are apps and software available on your desktop, server or in the Cloud. Collecting data, capturing signals, storing and analyzing them has never been so easy with the most powerful ultrasonic measurement management solutions designed for maintenance professionals.