Finnair relies on Agilon in its Maintenance Repair Operations (MRO) warehouse
Finnair Technical Services offer component repairs for the complete Finnair fleet – Airbus, Embraer and ATR aircraft types – at its hangars at the Helsinki-Vantaa Airport. The target is to carry out all maintenance work at the right time with full transparency, as safely and cost efficiently as possible, so that planes can take off according to their tight flight schedules.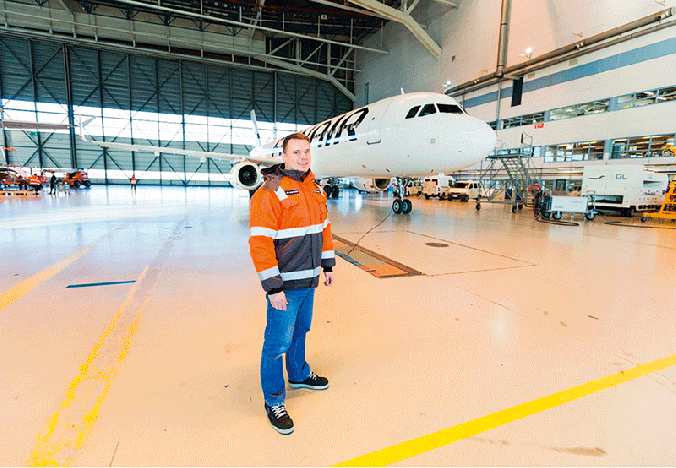 – Safety is our topmost priority. In service operations, we need to have 100 per cent traceability for all our tools to fulfil the requirements of the Part 145 Approval issued by the European Union Aviation Safety Agency (EASA), says Joni Janatuinen, Project Engineer at Finnair Technical Services.
All MRO tools have been individually laser engraved. It is essential to know exactly on which aircraft each tool has been used, by whom and when.
– One of our challenges was that the shift change times of our logistics partner HUB logistics, who is responsible for the MRO warehouse, sometimes differed from those of our aircraft repair shop. Because of this different shift change rhythm, our mechanics were not always able to get the tools they needed from the MRO warehouse.
Another and even bigger challenge had to do with the working time spent at the counter while checking out or returning tools. It accounted for 45 per cent of the total resource time of all warehouse transactions. A work study showed that waiting accounted for 80 per cent of the working time spent at the check-out counter.
– To be able to start work without delay, it is necessary to check the tools out immediately without any waiting at the warehouse counter. Due to the above challenges, we started to chart various self-service and automation solutions to boost our operations, implement a 24/7-without-delay principle and minimize waiting time," Janatuinen goes on.
Solution: a tailored system that works 24/7/365
In November 2018, HUB logistics started to use a Konecranes Agilon® materials management system in Finnair's largest aircraft hangar. The 14-metre-long and 6.1-metre-high device features two access points, robots and walkthroughs. There are about 1,300 tools in Agilon with an occupancy rate of over 80 per cent.
Now the tools occupy only about 30 square metres of warehouse space, when they earlier occupied 100 square metres.
Earlier, the MRO tools management was housed in a closed external application. The new system that operates 24/7/365 has been integrated into the aircraft repair shop's AMOS enterprise resource planning system through which everybody is able to keep track of and monitor the MRO tool management. The AMOS enterprise resource planning system manages Agilon's access control, too.
The user interface has been tailored to meet the needs of about 500 mechanics. It is as simple and fast as possible to use with a bar code reader, among other features. Agilon is also equipped with a carbon dioxide fire suppression system.
Automation retains full traceability and saves time
As far as tool monitoring is concerned, Agilon fulfils the self-service approach that the aircraft repair shop was targeting, while retaining 100 per cent traceability for tools. The photos taken by the system and user identification at the access points improve traceability even further. Also, Agilon eliminates the need to make an inventory of stock and manual entries.
Janatuinen expresses his satisfaction with Agilon and the benefits it brings. Currently, about 60 per cent of tool check-outs are done using the system. The rest of the tools, which cannot be stored in the Agilon system because of their size or other properties, are still checked out at the warehouse counter.
– Agilon saves us a lot of time. Automated tool check-out and return, as well as other automated transactions, have freed up resources at the counter for other warehouse tasks. This enables our logistics partner to provide us with higher-quality and more efficient services, for example, collecting and shelving items.
For more information please contact:
Mikael Wegmüller, Vice President, Head of Agilon Business
Mobile +358 40 77 62 314 email: mikael.wegmuller@konecranes.com