Consolidating Data Silos for Track Maintenance
Learn how you can maximize your existing investments in track maintenance by consolidating data silos and see how Bentley's AssetWise solutions help advance transportation organizations by Going Digital.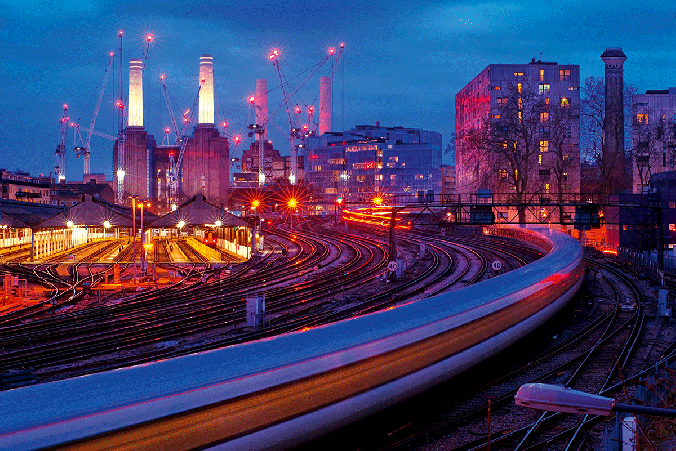 While rail and transit organizations are great at collecting various forms of data, they typically struggle to effectively analyze it in order to inform decision making. With the ongoing digital transformation of the rail industry, the increasing volume and speed at which data can be collected, and therefore needs to be consumed, is becoming a significant problem for track maintenance teams. Compounding this is the likelihood that data is coming from multiple hardware suppliers, each providing their own independent software solution for its analysis, resulting in the creation of data silos across the organization. What is needed is a solution that is hardware neutral.
A system that provides the ability to
consolidate and manage all third-party data, thereby providing easy access to data it can trust as the basis of all types of analysis, including for example linear analytics related to track maintenance.
The Data Silo Obstacles for Rail and Transit
With data coming from multiple sources and in many formats, the variety of this information often exceeds the understanding of a single person. Different teams will likely use a range of isolated datasets to perform specific activities across a network, and different team members will typically use and understand the different types of data in a number of ways, so the system should allow for the seamless sharing of datasets between the business units involved. In a world where so-called 'Big Data' is increasingly the basis for critical decisions within an organization, any solution they deploy needs to address four substantial obstacles of these 'Linear Data' silos.
Datasets from Different Sources: The track maintenance reliability team will receive data from track recording cars, either autonomous or human-operated vehicles. Data can also come from walking inspectors, identifying defects. Datasets could also be images from ground-penetrating radar (GPR) scans, or video and Point Cloud surveys, or work records.
Storing Datasets: Isolated systems could be the most significant obstacle for a rail and transit organization. Typically, the industry works in a siloed environment, and a change in methodology and culture is often required. Often datasets are segregated by product, or region, or business unit, or another grouping an organization considers valuable.
No Accessibility: Beyond datasets being isolated from each other, in many cases, rail and transit organizations have no unified visibility across the isolated systems. Maintenance decisions are made based on several data streams from a number of silos, and in most cases, decisions are made without realizing data that could provide insight is available.
Data is an Asset: Data must be treated as an asset itself and maintenance across several systems brings additional obstacles. It may not be understandable across data silos, or the information may be duplicated and/or inconsistent.
Consolidate from Multiple Sources
The best decisions can only be made by generating a complete view of the situation. For example, a rail maintenance engineer analyzing an asset must see the current performance, as well as the historical and future trends, while at the same time understanding nearby and related assets, plus the maintenance activities applied to the entire surrounding area. Additionally, the data must be represented in a form that allows complex conditions to be easily understood. Data visualization is critical in transforming vast quantities of complex-linear data into actionable information that users can readily access, understand, and utilize.
Consolidation of datasets is the core concept of AssetWise Digital Twin Services; the solution doesn't care who supplied the hardware, nor does it care what the data represents. The solution allows an organization to not only visualize all the data about the linear assets regardless of source, and at the same time; the system can also configure the way it is visualized, enabling the targeting of tasks against roles in an organization. This visualization configuration ensures that the right team members are able to see any and all information relating to their decision-making process.
The Approach for Consolidating the Data
The concept of consolidating the data into a single source may seem simple at a high level. However, one reality is, there is no international standard for the format of track related linear data. Each source and each vendor of hardware used to generate the data has its independent standard form. The data, therefore, needs to be aggregated, cleansed, and normalized, to provide a coherent, current, and comprehensive representation of it. Once imported, this cleansed and trusted data can be augmented with management intelligence and then analyzed allowing this additional insight to aid more informed decision making. The methodology of consolidating data silos for track maintenance to achieve this has four steps:
Collection: This is done through inspections, by track recording surveys, maintenance records, manual walking inspections, Geographical Information Systems (GIS), GPR, and ultrasonic imagery. Various business units or teams within a rail and transit organization will typically collect datasets that are of value to their business objectives.
Dataset Creation: Previously these datasets were siloed due to the various business units or teams collecting and managing the information in isolation of others. These datasets need to be collected in their original format and the records must never be modified for auditing purposes.
Aggregate: This step requires cleansing and normalizing the data into a single system. All modifications from the original data are made in isolation, and it is this cleansed data that is used for further analysis.
Visualize and Analyze: The configuration of views to suit any preferences required for individual business units within an organization. This ensures that individuals do not receive information overload when analyzing data that has an impact on their decision-making process. Advanced statistical analysis will help determine the history, the present, and the future condition of the assets on the linear network. Trending the data to predict a functional failure to ensure an organization can schedule maintenance before needing to enforce speed restrictions or shutting down of the line.
Empowering track maintenance
The Benefits with the Right Solution
The need for rail and transit organizations to do more with fewer resources is an everyday reality. Solutions that consolidate data will be essential for moving forward. If an organization doesn't currently have a culture of continuous improvement, there will be a culture shock and this needs to be addressed at the start of implementation. There will be bumps and roadblocks moving forward but working together and having a clear vision will ensure success in the future. This consolidation will empower track maintenance teams to perform analysis and forecast trends; make better-informed decisions about maintenance and renewals; and improve safety, security, and reliability of the linear network.
Going Digital with Bentley
Going digital with Bentley ensures digital context, components, and workflows become part of your network's digital DNA. OpenRail builds on your existing investments in BIM and enables your organization to take its next step in advancing the railways of tomorrow.
Comprehensive - The depth and breadth of Bentley's OpenRail is unrivalled in the industry. It is trusted and proven on thousands of projects around the world over the past 30 years.
Open and Flexible - Bentley's OpenRail leverages data in the common data environment to provide immersive and interactive modeling of rail and transit corridors plus related infrastructure assets.
Scalable - Bentley's OpenRail is scalable and modular, enabling your solution to grow as your organization's digital strategy evolves.
Timely - Bentley's open, connected data environment enables teams to access trusted information wherever and whenever it is needed.
Start Going Digital
Digital technologies are changing the rail industry, and your organization might already be going digital. But if you are struggling to embrace change, or realize the benefits of digital technologies, Bentley can help.
To assess what stage your organization has reached we have developed two digital assessments (advancement frameworks) – one for owner-operators focused on asset performance and another targeting supply chain members working on the delivery of capital projects. Both cover your current business practices and use of digital context, components, and workflows to help benchmark your organization's existing digital practices, identify areas of opportunity, and highlight where the greatest value might be gained.
The advancement framework covers five levels of advancement – aware, engaging, connecting, automating, and optimizing. It is often the case that organizations find variation within the different disciplines, teams, or phases of the lifecycle in which they work. Where an organization might be 'automating' in some areas of the business, it might only be engaging in others, so Bentley encourages you to use the assessment across key areas of your business and in collaboration with different team members.
To take your digital assessment, visit https://www.bentley.com/en/goingdigital/rail/asset-and-network-performance-rail