An ultrasound solution to grease bearings right
Today, SDT Ultrasound Solutions announced significant updates to its award-winning LUBExpert, a solution that guides lubrication technicians to grease bearings right.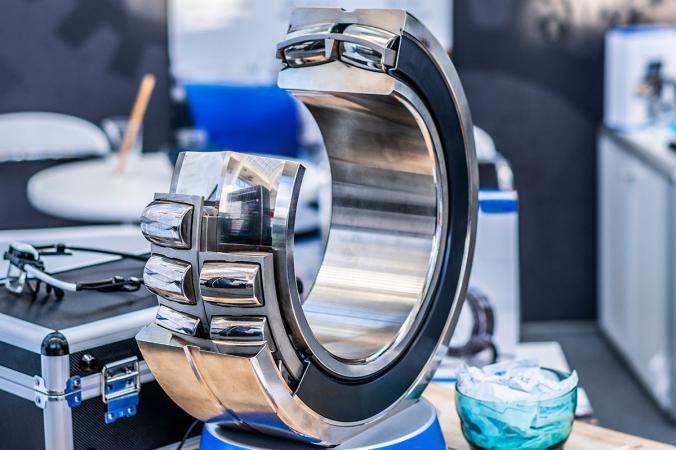 LUBExpert employs expert logic to overcome the many challenges that threaten Lubrication Excellence. The recipient of Plant Engineering's Maintenance Product of the Year in 2017, the solution is globally praised as the best companion for lube-techs tasked with performing machinery lubrication.
This latest release includes a long list of enhancements that further position LUBExpert as a "must have" tool for precision machinery lubrication. Embedded artificial intelligence thinks with, and for the lube tech at all steps of the grease replenishment task.
Our development team remains committed to our vision to explore new ideas, improve existing ones, and create new applications that solve real problems for our customers, extolls SDT's Managing Director, André DEGRAEVE.
While only one person squeezes the grease gun trigger, it takes a team to grease bearings right. LUBExpert masters the workflow of grease replenishment from a team perspective by managing integrated databases for:
Grease type
Grease gun database
Physical assets
Bearing types/sizes
Alarms
Workorders
Shopping lists
Missed tasks
Field messages
Outcomes
Reports
Free/Guided Modes –
Lubrication Excellence is something we all strive for, but few organizations can prepare a winning strategy the whole team can execute, states Field Support Manager Haris Trobradovič.
LUBExpert Generation 3 interweaves elements of discipline and control that holds all stakeholders accountable. With LUBExpert, you really feel the pulse of your machine.
Existing LUBExpert users will receive the latest updates and enhancements free of charge. Watch your email for release and instructions notes or contact your local distributor to Hear More.
About SDT
SDT provides ultrasound solutions that help our customers gain a better understanding about the health of their factory. We help them predict failures, control energy costs, and improve product quality while contributing to the overall reliability of their assets.
LUBExpert is a keystone element of our products and solutions portfolio. To Hear More please contact SDT Ultrasound Solutions hearmore@sdtultrasound.com
Why Lubricate?
It seems a simple question, yet when asked, the answers are not always similar, or simple.
Some say, "to fight friction" and that is true. We do add grease to an asset's moving parts to reduce friction. But there's more to it than that.
Some say, "to reduce heat" and that is also true. The right amount of lubricant does help keep moving parts from getting too hot. But some lube techs, thinking more is better, take it to the extreme. They add more grease -- thinking they are doing good -- and instead choke the machine's ability to disperse heat.
The real reason to lubricate assets is to form separation between surfaces. This logic applies to not only motor bearings. The pistons in an engine, chains on a chain drive, gears in a reducer, even linear bearings that do not rotate, but slide back and forth. The primary purpose to lubricate physical assets is to keep moving surfaces from coming into contact with each other. Because when they do, failure modes are initiated, and lifecycle is shortened.
Friction is a force which opposes movement between surfaces. Friction increases wear between surfaces, increases system temperature, and dramatically increases power consumption. The right amount, and type of lubricant creates a thin film between two surfaces. For as long as that film is maintained, it protects the asset from wear and heat while allowing it to produce in an energy efficient way.
Some lubricants offer the additional benefit of controlling corrosion. They contain additives which prevent rust from acid and water attacks.
Grease must be kept free of contaminants, but the very nature of the thickener allows it to pick up dust and grit. Proper storage is therefore crucial, and clean grease applied properly can actually shield machines from the ingress of contaminants.
The science of lubrication continues to evolve for over 4000 years. But the principles remain the same; to maintain separation of two or more surfaces, thus prolonging the reliability of the entire asset.
What is Grease?
Tremendous science goes into engineering the many grease formulations that keep physical assets working their best.
The sheer number of grease types available is as varied as the applications where they are used. Yet their composition remains a simple mixture of base oil, thickener, and in most cases some additives.
The Base Oil is the key ingredient of grease. Its job is to form the thin, hydrodynamic film that separates metal components from one another. When functional separation between elements is maintained, the bearing has what we term a functional grease mechanism.
Base oil is the key ingredient when matching grease types to specific applications.
Thickeners are the matrix of the grease. Base oil cannot resist gravity on its own. It relies on the thickener to hold it in place. The thickener makes grease effective regardless of a machine's orientation. For instance, in a vertically oriented shaft, the base oil would seep away from the bearing making a sustainable, functional grease mechanism improbably. In addition to keeping base oil where it's needed, thickener has the added benefit of shielding the base oil from particle contaminants.
Additives are a double-edged sword.
On the positive side, they enhance the lubricating properties of the base oil. Additives increase the lubricity of the base oil making grease even more slippery. They help fight oxidation, corrosion, and extreme pressure conditions.
On the negative side, they are a consumable. They deteriorate over time, so their effectiveness is not linear for the life of the grease. Additives can also have adverse effects on the thickener.
Additives add an unknown function to the mad science of calculating time-based grease replenishment intervals. Most departments working on calendar-based lubrication don't factor additives into the equation, further compounding their errors.
While considerable science goes into formulating grease types, what the lube technician needs to know is that the grease he or she injects into the bearing actually reaches its intended destination and works to form an effective greasing mechanism.
Greasing Myths
Once you understand how grease actually works to lubricate a bearing, it becomes obvious why over-greasing causes so much trauma to both bearings and the grease itself.
Remember, all we want from our lubricant is to provide a little separation in the war zone. Nothing more… nothing less.
If you're reading the term "war zone" for the first time, we use that term to describe the region of the bearing where all the wear and tear occurs.
Now let's dispel three myths about greasing bearings.
Myth #1: if some grease is good, then a lot more must be great.
WRONG! Most bearing manufacturers like SKF, FAG, NTN, KOYO, all recommend that the bearing housing cavity only be filled to 30% capacity. Lube departments using a time-based approach to grease replenishment almost always leave their assets in an over-greased state.
Myth #2: More grease will provide better cooling for the bearing.
WRONG! Grease doesn't provide cooling, air space does. Filling every void with grease chokes the bearing's ability to dissipate heat generated by even normal friction levels.
Myth #3: If there is a grease nipple on the bearing housing it must be greased.
WRONG! Some motors come with "sealed-for-life" bearings installed. These are meant to be never greased… EVER. Yet someone thought it would be clever to install a grease nipple anyways. You have to know what's inside your motor because grease is like tooth paste. Once you squeeze the trigger you can't stuff the grease back inside the tube.
Enough bad practices please. We need a greasing strategy, but more than this, we need a greasing culture. Bad greasing culture eats good greasing strategy for lunch. It only takes one bad actor, often well-intentioned – to destroy an asset.
Grease guns don't kill bearings… people do.
How Grease Works
We know bearings need grease; both to perform well and to last a lifetime. But do we really understand where that grease goes and how it performs its function?
There are two states that grease lives in when a bearing is lubricated. We refer to them as the Bleeding Phase, and the Churning Phase. Let's review so we can better visualize what's happening in each phase.
Remember that grease is made up of oil, thickener and additives. The thickener is the vehicle which delivers base oil to the war zone, where the rolling elements meet the races. These contacts points are kept separated by the oil film that lubricates the contact point interface. There are two distinct phases or conditions that can exist.
The Churning Phase describes the phase or condition when thickener is present within the war zone.
The Bleeding Phase describes the phase when only the base oil is present in the war zone.
Let's concentrate first on the churning phase. When there is thickener in the raceway, higher friction levels are present. The rolling elements must "plough" their way through this media. The result is higher temperatures from the bearing, and ultimately the motor. The motor consumes more electricity and the excess heat accelerates lubricant deterioration and consumption of additives.
When we over grease a bearing we cram thickener into the war zone; and we force that thickener to stay in the war zone. And that is a huge problem. It's stuck there. That means the thickener sits there and get run over by the rolling elements millions of times a day.
Two significant problems come from this:
The fibers of the thickener get crushed to the point where it can no longer hold the base oil where it's needed. The grease ages prematurely, adding more inaccuracy to your time-based re-greasing regimen.
The fibers of the thickener, now crushed to smaller sizes, become suspended in the base oil. This changes the lubricant's viscosity to the extent that it no longer matches the required lubricity of the application.
By crushing the thickener in the churning phase we've completely altered the properties of the lubricant and dramatically reduced its lifespan.
It is quite normal for the bearing and grease to be in the churning phase for a few seconds. This happens during grease replenishment, with each injection of new grease. The time for new grease to enter the bearing and settle to the grease cavity is called a stabilization period. Depending on the RPM of the bearing, this can be a few seconds or several minutes.
What lube techs must know is that their job is to transition the bearing from the churning phase to the bleeding phase as quickly as possible. This happens when a planned strategy for re-lubrication is in place, and they don't exceed the calculated grease replenishment quantity.
The bleeding phase describes the optimum condition where the right amount of grease resides outside the war zone, and the movement of the bearing allows only the base oil, infused with additives, to sufficiently bleed from the thickener to the space between the rolling elements.
The only way to confidently know the bearing has reached an optimal churning phase is to measure its friction levels with an ultrasound instrument accurate enough to deliver repeatable, reliable data.
Time-based vs Condition-based lubrication
Until now industry was content to satisfy their asset's lubrication needs based on a calendar and a calculator.
"Add this many shots after this many hours in service" instructs the motor plate. And away went the lube tech, blindfolded, grease gun in hand, oblivious to the destructive potential of his actions. Don't blame him. He's doing his job the best way he can.
The problem is not the lube tech, it's the philosophy that gave birth to his bad practices and the less than excellent culture that allows them to continue.
Why complicate lubrication with calculators designed to estimate grease replenishment quantities, and calendars designed to estimate grease replenishment intervals? Especially when these calculations return invalid answers that destroy assets and profits.
Let's review what Goldilocks discovered.
Add too much grease, and bearings enter a churning phase that produces high friction.
Add too little grease, and there's no separation of components, also producing high friction.
Add just the right amount, and bearings enter the bleeding phase where friction levels are low.
The common denominator in these three scenarios is FRICTION.
And we now know that the best technology to monitor, measure, and trend friction is ultrasound.
Training cannot overcome poor, or lack of tools. Good procedures are not enough. Lube technicians need the right tools, and they need to be trained on how those tools interact with their organization's goal to achieve precision lubrication.
Yesterday, the best they might have had is a calendar and a calculator. Are these the best tools to achieve precision lubrication?
They might have been at one time. This might even have passed for leading edge thinking. But it wasn't right then, and its surely wrong today.
When a trained lube tech measures the effect every shot of grease has on the friction levels in a bearing, he knows when to start, when to stop, and exactly what quantity of grease is required to restore optimum friction. When a trained lube tech achieves lubrication excellence, he becomes a LUBExpert.