Value Driven Maintenance is More Important than Ever
NFV and Mainnovation share knowledge with webinars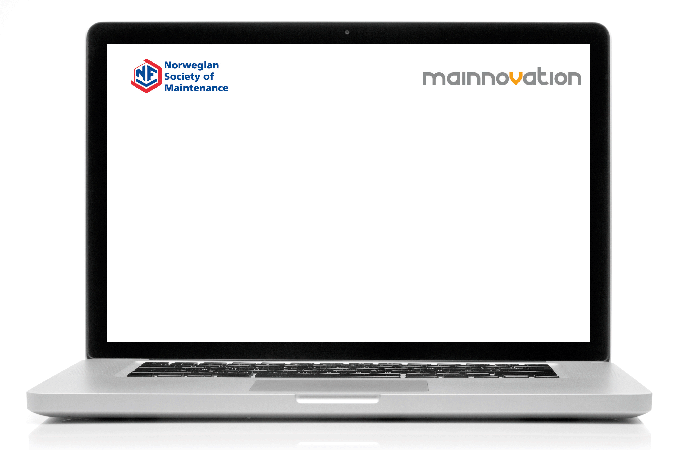 Norwegian Society of Maintenance NFV and Mainnovation offer a special webinar series: the "VDMXL Deep Dive Sessions". In these months, in which we are dealing with COVID measures, value driven maintenance/world class maintenance is more important than ever. Therefore, both organizations decided to share their knowledge to support and train maintenance professionals.
Technical Services Departments are struggling. We are dealing with COVID measures and still we must make sure we can depend on our asset availability and reliability. Besides this, Western industry is aging, and installations need to be replaced. And we need to make sure we keep up with digitalization, future maintenance and automation. To stay competitive, constructive maintenance is essential. The good news is this does not need to be a cost aspect! With VDMXL , a proven methodology from Mainnovation, the Technical Services Department can make a difference and create value.
Join forces
The Norwegian Society of Maintenance (NFV) thinks it's important to give maintenance professionals future knowledge about maintenance and asset management. Therefore, Per Schjølberg, deputy chairman at NFV and Mark Haarman, managing partner from Mainnovation, consultancy firm on Maintenance & Asset Management, decided to join forces. Value Driven Maintenance & Asset Management, or simply VDMXL , explains how to extract maximum economic value from an existing plant, fleet or infrastructure using a professional management approach. With this methodology capital-intensive companies can professionalise their Technical Services Department and transform it from a cost centre into a business function that continuously improves business performance. The work is based on a quantitative control model, a control panel with 12 KPI's, sector-specific benchmarks, and over 50 best practices.
The webinar series is also in line with World Class Maintenance (WCM). The modules are going to be included in the World Class Maintenance – Maintenance Management course, that is arranged for Norwegian participant of the NFV with the start of October 2020.
Content
The webinar series cover the most relevant topics in future maintenance. World Class Maintenance and VDMXL , Value Driven Maintenance and Asset Management, are the foundation. The VDMXL Deep Dive Sessions covers themes and topics, a maintenance professional can instantly turn into practice. Subjects vary from a focus on cost control to creating an ideal staffing of your Technical Services Department and the status of Predictive Maintenance. Experts will answer questions like: How can you increase the competitive value of your installations? Which skills are important in the new era of digitalization and automation? What are the seven biggest pitfalls in maintenance change projects? What is good spare part management? All topics a maintenance professional would want to know more about.
Earlier this year the webinar series was, in cooperation with the Dutch maintenance association NVDO and the Belgian maintenance association BEMAS, presented to maintenance professionals in the Netherlands, Belgium and France. The attendees were very enthusiastic about the content. They were impressed with the fact that within an hour very hands on information was given about maintenance.
Joining the Webinars
The VDMXL Deep Dive Sessions consists of 16 different webinars. The webinars can be joined individually or as a complete package.
You can find a subscription and the dates of the complete webinar series on the website of NFV: www.nfv.no. Everyone who finds these webinars of interest, is invited to subscribe. The first webinar will take place August 25th 2020.