SENSOR+TEST 2015 is Europe's Biggest Measurement Fair Middle of May in Nuremberg
The 22nd international SENSOR+TEST trade fair will be held from the 19th to the 21st of May 2015 at the Nuremberg Exhibition Center. The SENSOR+TEST is a must-go venue for developers, engineers, and users from all industries as well as for engineering and science students. State-of-the-art sensor and measuring technology is crucial for the development and sustainability of devices, machines, systems, and processes. Moreover, without the latest testing technology, the ever-increasing demands on the reliability of products and processes could not be met.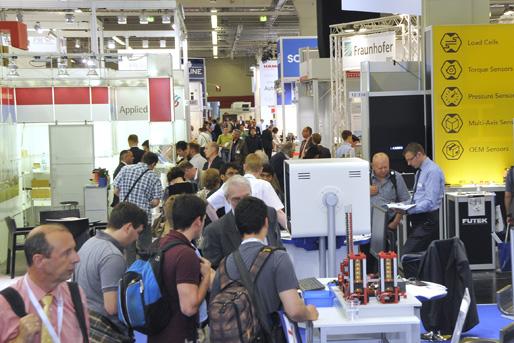 There is no comparable platform in Europe where innovative users can meet so many innovative suppliers of sensor, measuring, and testing technology from all over the globe. The AMA Association for Sensors and Measurement backer and AMA Service organizer count with 550 exhibitors and approximately 8,000 visitors.
Focal Topic for 2015: Environmental Monitoring
Environmental protection in industry as well as in general is hardly possible without reliable measuring values. Whether we want to avoid health hazards, optimize industrial processes, or comply with new statutory requirements: Precise monitoring of ambient conditions is now a more important task for sensing, measuring, and testing technology than ever before.
This is why the Exhibitors Committee in cooperation with the Executive Committee of the AMA Association for Sensors and Measurement chose Environmental Monitoring as the Special Topic for the SENSOR+TEST 2015. The spotlight is to be on systems for measuring air quality. Visitors can get a concentrated overview of new relevant products and solutions at the Special Forum in Hall 12, Stand 12-485. Moreover, the Presentation Forum in Hall 12 is to be dedicated to "Environmental Monitoring" on Tuesday, 19 May 2015.
Product Overview of the SENSOR+TEST 2015
The following text is based on the preliminary information given by the exhibitors to AMA Service, the fair organizers, up to early February 2015. It comprises a preview of products, services, and trends presented at this year's SENSOR+TEST. The structure follows the trade fair's nomenclature.
Overview of Topics:
Geometric Parameters Mechanical Parameters Dynamic Parameters
Thermal Parameters
Climatic Parameters
Optical Sensors / Sonic Measuring Systems
Chemical Sensors
Measuring Technology
Testing Technology
Components for Sensors and Measurement
Calibration Systems
Conclusion