Machine status at a glance - simple, straightforward and from any location
With ONLINE VIEW 4.0, PRÜFTECHNIK Condition Monitoring presents a new server-based visualization software that displays current machine conditions on PCs, smart phones and tablets via a dynamic web interface.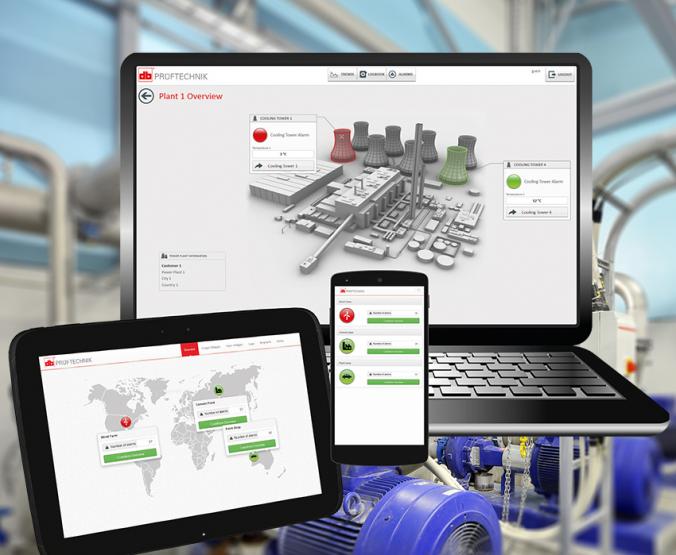 ONLINE VIEW 4.0 supports all PRÜFTECHNIK online condition monitoring systems: VIBGUARD, VIBROWEB XP, VIBNODE, VIBRONET Signalmaster, VIBCONNECT RF as well as the WEARSCANNER online particle distribution counter. The software communicates via Modbus TCP. Consequently, machine condition information from the online system and data from the process control system can be recorded and displayed simultaneously.
The live data is accessed via a browser-based client. All that is needed to obtain real-time data via the server is an up-to-date browser as well as a user name and a password. The server can either be installed locally on a company computer or run as a cloud application. The dynamic web interface of ONLINE VIEW 4.0 makes it possible to display machine conditions not only on a PC, but also comfortably on tablets or smart phones.
The user interface features a clearly structured design. A traffic light function gives a quick overview of the current condition of the monitored assets. In case of a warning or alert, trend data is available from recent days or weeks, depending on customizable settings. This helps the user identify the rate of condition deterioration at a glance. Threshold violations can be acknowledged and documented on the interactive machine sitemap. These records may then be used as an alarm log. Thus, this software is an ideal tool for managers and machine operators.
If used in combination with the VIBGUARD Viewer diagnosis software, in-depth analyses are also possible. Now the question of whether the machine may be operated until the next shutdown can be answered more easily.
With ONLINE VIEW 4.0, PRÜFTECHNIK Condition Monitoring has broadened its extensive portfolio of condition monitoring solutions for rotating equipment. Together with its well-established portable measurement instruments, PRÜFTECHNIK provides plant operators and service providers with a large supply of measuring equipment to effectively optimize machine availability.