FLIR unveils new line of Test & Measurement tools
FLIR Systems announces the launch of a new line of Test & Measurement (T&M) equipment. Exhibiting the same standard for innovation, quality, and reliability that our customers have come to expect from FLIR, these new T&M tools were engineered from the ground up to include world-class capabilities – advanced diagnostics, enhanced productivity, and increased connectivity – that address our customers' real-world needs.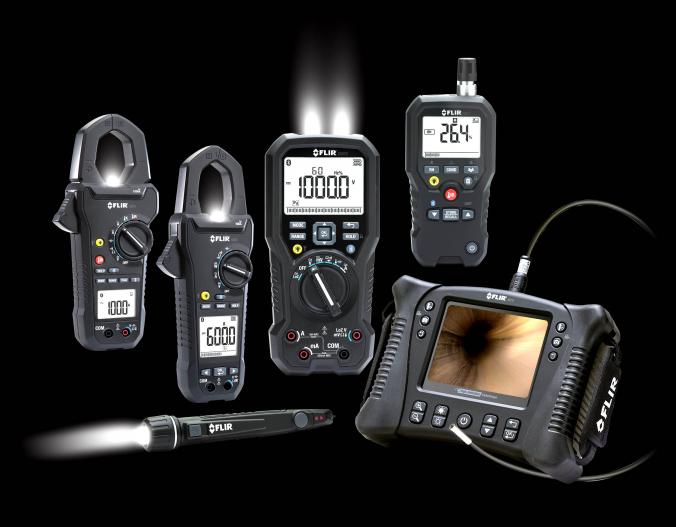 Three new FLIR electrical meters
This brand new T&M product line includes three electrical meters – the FLIR DM93, FLIR CM83, and FLIR CM78. All feature large/clear LCD displays, bright dual-LED worklights to illuminate dimly lit work areas, Bluetooth® connectivity to Android™ mobile devices running the latest FLIR Tools Mobile app, and the ability to wirelessly connect to METERLiNK®-enabled FLIR thermal cameras so that electrical readings can be embedded into IR images in real time.
FLIR DM93
The new FLIR DM93 is a rugged DMM designed with advanced VFD filtering and shielding that help professional users accurately analyze non-sinusoidal waveforms and noisy signals found in VFD-controlled equipment. Other features include LoZ Mode to eliminate ghost readings in long-run scenarios, and Automatic Data Recording to detect intermittent glitches.
FLIR CM83
The new FLIR CM83 is an industrial power clamp meter with power analysis and advanced VFD filtering for testing three-phase systems and VFD-controlled equipment. Other features include Harmonics Mode to find noise from different electrical sources, Phase Rotation to confirm phase orientation of three-phase systems, and Inrush Current to detect start-up transients.
FLIR CM78
Multifunctional clamp meter
The new FLIR CM78 is a 1000A clamp meter that combines the capabilities of a True RMS digital multimeter and clamp meter with a non-contact IR thermometer and Type K thermocouple. Useful for working on industrial equipment and complex machinery, this new clamp meter enables users to quickly capture accurate AC/DC readings up to 1000A or 1000V.
Three new FLIR T&M products
FLIR VP52
NCV detector plus worklight
The new FLIR VP52 is a compact non-contact voltage detector. The FLIR VP52 has a powerful LED worklight, as well as a dual-LED convenience light at the probe tip. Other features include vibration feedback and multi-colored LED alarms – useful for inspections in noisy areas, and high/low sensitivity modes for testing industrial equipment, low-voltage systems, and tamper-proof outlets.
FLIR MR77
The new FLIR MR77 is a rugged moisture meter that features a pinless sensor and an external pin probe to capture moisture readings up to 0.75" below the surface of various wood types and building materials. The FLIR MR77 also includes a field-replaceable temperature/humidity sensor, spot IR thermometer with laser pointer, Bluetooth connectivity to Android™ devices running the FLIR Tools Mobile app, as well as compatibility to METERLiNK-enabled FLIR IR cameras.
FLIR VS70
The new FLIR VS70 is a rugged videoscope with intuitive handset controls that let users maneuver the camera probe into tight areas to deliver clear video and images to a large 5.7" color LCD display. The FLIR VS70 features wide-angle 180-degree and standard 90-degree camera views, SD card storage of video, image and audio files, a six-to-eight hour battery life, USB port for convenient battery charging, and the included headset allows for voice annotations during inspections to clarify findings.
About FLIR Systems
FLIR Systems is the world leader in the design and manufacturing of thermal imaging cameras for a widevariety of applications. It has over 50 years of experience and thousands of thermal imaging cameras currently in use worldwide for predictive maintenance, building inspections, research & development, security and surveillance, maritime, automotive and other night-vision applications. FLIR Systems has eight manufacturing plants located in the USA (Portland, Boston, Santa Barbara and Bozeman), Sweden (Stockholm), Estonia (Talinn) and France (near Paris). It operates offices in Australia, Belgium, Brazil, China, Dubai, France, Germany, Hong Kong, Italy, Japan, Korea, the Netherlands, Russia, Spain, UK and the USA. The company has over 3,200 dedicated infrared specialists, and serves international markets through a global distributor network providing local sales and support functions.
For more information about FLIR and its products/technology visit www.FLIR.com .