Disciplined and Smart Asset and Maintenance Management in Iceland
Asset and maintenance management has always been important for Iceland – a small, isolated nation, involved with fishing in open seas, power production, and heavy industry, to name few areas of concern.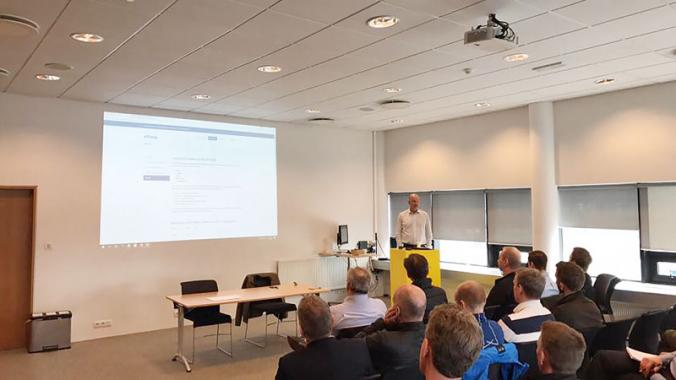 Being a small nation, where people work in small agile groups, there have been a lot of unwritten tacit rules, with fewer formal written procedures. As companies, and the Icelandic society in general, has steadily become bigger and more mature in recent decades, there is now more need for written rules and transparent well-defined procedures. Also, as Iceland is now less isolated as the world is getting "smaller" and more interconnected, we have needed to become more disciplined, "smarter" and more administrative as required for global cooperation and business management in general.
This was addressed at the EVS winter meeting, which took place on December 1st, 2021, at Hotel Natura in Reykjavík and on Microsoft Teams. Following are excerpts from some of the presentations that were given at the meeting.
"Re-start" of EFNMS Certification
Guðmundur Jón Bjarnason, Managing Director at DMM Lausnir, is EVS' EFNMS delegate. He addressed the "Re-start" of EFNMS Certification. From 2018 until late this year, EVS has taken part in an Erasmus+ project, Qualification, Validation and Certification of Maintenance Personnel, together with national maintenance societies from Sweden, Czech, Finland, Hungary and Slovenia, see www.cemaint.eu.
As stated in the project: European industry needs to work smarter to increase profitability and competitiveness. Working smarter with a combination of automation, digitalization and maintenance, with a higher availability in the production processes, will also prevent the flow of production to low-cost countries. However, maintenance is not adequately emphasized in the academic world, there is a need for validation of non-formal and informal maintenance learning and experience together with formal learning. In other words, certified objective maintenance competences are needed for the individuals and companies concerned, within and across European nations.
To achieve this, EFNMS has for many years certified Maintenance Managers and Maintenance Technician Specialists. This has been done in cooperation with some of the National Maintenance Societies based on standardized exams. However, the question database has been somewhat limited, largely based on written questions and restrictions as to who can take part. This has been identified as one of the main reasons why the European EFNMS certificates have not become widespread certificates recognised by individuals and companies around Europe as the symbol for objective maintenance competences.
Still, the EFNMS certificates are known and respected in the societies where they are used, they are based on a good foundation and issued by a respected party, the EFNMS and the National Maintenance Societies involved.
The aim of this project was to get past the limitations mentioned above, that is to create a database of multiple-choice questions that will be disseminated through EFNMS, its European Certification Committee (ECC) and its National Maintenance Societies around Europe.
The dissemination will be in the form of European Maintenance "Knowledge Passports" and Certificates issued by EFNMS to maintenance professionals around Europe seeking employment and working for European companies. The project has created a database of questions that will be used in pilot validation projects in Sweden, Finland, and Hungary in 2022.
Following the pilot projects and finalization of this new certification platform EVS intends to bring the certification to Icelandic companies and individuals as an important step to further improve asset and maintenance management in general in Iceland. By taking part in this development, EVS has tried to contribute experience and practical approaches that have been important in our small culture, in particular agility and ownership.
Landsnet's road to digital
Landsnet commenced operations in 2005 as the single Transmission System Operator (TSO) for electricity in Iceland. It is responsible for the operation and maintenance of the electricity transmission system and is required to develop the grid in an economical and secure way. Guðlaugur Sigurgeirsson, Head of Asset Management and Digitalization at Landsnet presented Landsnet's "road to digital" during the event.
For some years Landsnet has been implementing Asset Management (AM) in accordance with ISO 55001. The structure of AM specified in the standard has been used as a guideline during the build-up of Landsnet's asset management. All required documentation has been generated to include AM Policy and a Strategic Asset Management Plan (SAMP) to get maximum benefit of AM's best practices. At this point no decision has been made to go for ISO certification.
Early in 2019 Landsnet made a strategic decision to implement all new substations as "digital substations". Most of AM's effort has been on designing and building new substations in accordance with IEC 61850, the main communication standard for control and protection equipment. The benefit of digital substations is expected to be significant to include less wiring, lower CAPEX and OPEX, increased personnel safety, less environmental impact to name a few. Landsnet plans to complete and have 24 new digital substations in operation within two to three years.
The digital substation technology opens new ways to control and operate the transmission system. Landsnet is implementing "Smart Grid" solutions to meet increasing demand for renewable energy in Iceland. Capacity of the grid has been reached and faster control and optimized energy flow is applied to fulfil the needs of the electricity market.
These are the new challenges in asset management and maintenance planning. Opportunities to take transmission assets out for service are reducing yet reliability requirements of the grid remain high.
Spareparts, 3D printing
Geir Guðmundsson gave a speech about 3D printing, which originates from the ´80s with SLA technology - Stereolithography Apparatus. In the beginning it was used to create small 3D plastic objects layer by layer based on 3D computer models, primarily for show and for rapid prototyping. Other methods were developed, such as FDM - Fused Deposition Modelling, where a plastic tip was melted layer by layer and SLS - Selective Laser Sintering, where plastic powder was melted together using laser.
In the last two decades there has been a lot of development regarding materials used, precision, size, speed and capacity, lower prices, and more powerful and affordable 3D printers for companies and for the public. So called Additive Manufacturing is used today for the production of items and parts for expensive and complex items produced in low volumes in particular, but there are still hindrances, e.g. regarding surface quality, density, strength, production time and prices.
For many years it has been forecast that in the future spare parts will not be shipped between countries, but 3D printed on-site based on production recipes. Still, we are not there, and current strategies have more to do with sending 3D models to big service companies which create the parts and send them to the customers. It is important to have several issues in mind regarding the 3D printing of spares, such as quality; will guarantees still be valid if 3D printed spares are used; Production rights; Relations with 3D printing service providers and to have 3D models securely stored.
Whilst 3D printing has evolved in recent years, so have other techniques such as CNC manufacturing which has become cheaper and less time consuming.