Smart Resources in Condition Monitoring
Generally, there are two options for measuring condition monitoring – to perform measurements and analyses with your resources or buy them from a service provider. Both have their advantages and challenges, but are there any other alternatives?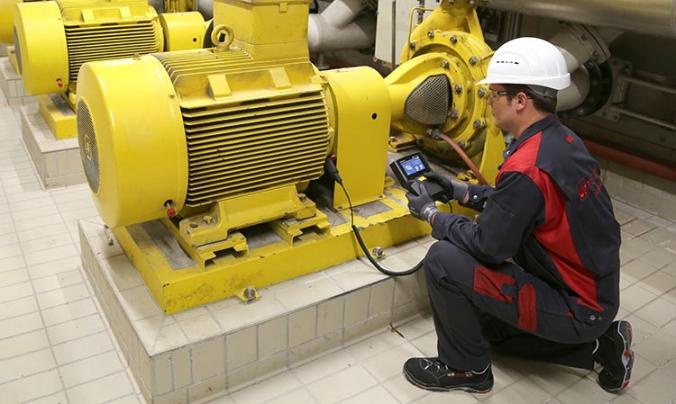 Condition monitoring based on vibration measurement has for decades been a proven and effective way to ensure high machinery up-time rate and to avoid unexpected downtime. Measurements are made either with fixed online systems or by route measurement with portable analysers. Fixed online systems are the most effective and secure way to make condition monitoring of critical machines. Figure 1 shows the vibration trend generated by the online system, alarm limits, and spectrum analysis. Economically, online systems are a significant investment: they cannot therefore be installed on all important machines. With a portable vibration collector and route measurements, you can flexibly measure the desired machine pool, and select the measurement frequency according to the priority and condition of the machines and the available resources.
To do the work by yourself or buy it as a service
If condition monitoring is carried out by the company's vibration expert, investment in measuring equipment is required along with in-depth training, and years of experience in analysing vibrations. Today's requirements include various types of training and level tests based on classification and standards. However, even the best courses or certifications are useless if the most important feature of the vibration expert is missing, i.e., genuine interest and enthusiasm in details of vibrations and challenges. In today's streamlined organization, there is a risk that the expensive measurement equipment only collects dust on a shelf because the vibration expert leaves the company or retires. In this case, training or recruiting of a new expert is required that is once again a separate process.
The alternative is to turn to one of several service providers of various skill levels in the market. When using an external measurement company, the so-called auditing measurements are a common practice. In this case, routing measurements and analyses are generally performed four times a year. These few measurements are not sufficient for condition monitoring based on trends and alarm limits, as machines can break down between measurements. Besides, so few measurements require more measuring points, versatile measurements, and in-depth vibration analysis to ensure that the machine's condition can be verified. As a result, the amount of work to be analysed is relatively high.
The recommended measurement interval for route measurement in an alarm limit monitoring is four weeks so that changes in the vibration behaviour of the machine are detected in time.
Measurement easy - analysing difficult?
It is quick and easy to perform route measurement with modern vibration analysers. The pre-programmed measurement path contains the necessary settings and information: which machine and the location, which direction to measure and the selected measurement settings. The most common way is to use an accelerometer with a magnetic fastening, but in this case, you should take into account the risks of user-related measurement errors:
Inadvertently measuring the wrong machine / wrong measuring point / in the wrong direction
The sensor magnet is poorly positioned mounted on the machine surface, resulting in poor measurement data
Measurement is performed at a different point than before – poor repeatability
For analysing the results, it is essential that the measured data is reliable and reproducible. Otherwise, false conclusions can be made, or damages are not detected in time.
Generally, measurements are performed by a trained vibration expert who also performs the analyses, conclusions, and reports. If there are many machines to be monitored, they will not always be able to measure them often enough, let alone analyse them properly. The option is to use an external service provider, but a large workload significantly increases the costs, and therefore, it is not an attractive option. What are the options?
Smart way to divide the resources
The solution to the above problems is an intelligent division of labour and reliable measurements. Normal route measurements carried out once a month can be performed by factory operators or maintenance personnel. That is a cost-effective option because more of the limited working time of the vibration expert is reserved for analysis and reporting of results. Once a month route measurement also allows the trending of measurement data and alarm monitoring (Figure 2). On the measurement route, the number of measurements is optimized, so that a single measurement cycle is not too laborious or time-consuming.
How to ensure the reliability of the measurement?
Some of the measurement device manufacturers have coded measuring connectors (Figure 3) installed on the machines being monitored. The measuring device automatically identifies the measurement point, and there is no possibility of incorrect measurement. When the measuring sensor connects firmly to the measurement nipple (for example, by a spring lock), the signal transmission is assured, and the result is always the same regardless of who takes the measurement. Trend monitoring is reliable when the measurement result is not user dependent.
Smart division of resources and close cooperation ensure a cost-effective solution for machine condition monitoring, and thanks to its flexibility it is suitable for many industries and changing situations.
Text: Teemu Ritvanen, Managing Director MLT Machine & Laser Technology Oy , Finland