GENESIS64™ Version 10.85 Speeds Time to Deployment
New Features Include GEO SCADA, Advanced User Interfaces and Project Reporting.
ICONICS is a Microsoft® Gold Partner and winner of the 2014 Microsoft Public Sector CityNext Partner of the Year award. It provides advanced, Web-enabled and OPC UA certified HMI/SCADA software for any discrete manufacturing or industrial application. ICONICS announces numerous productivity and ease of use enhancements to its GENESIS64™ V10.85 HMI/SCADA suite.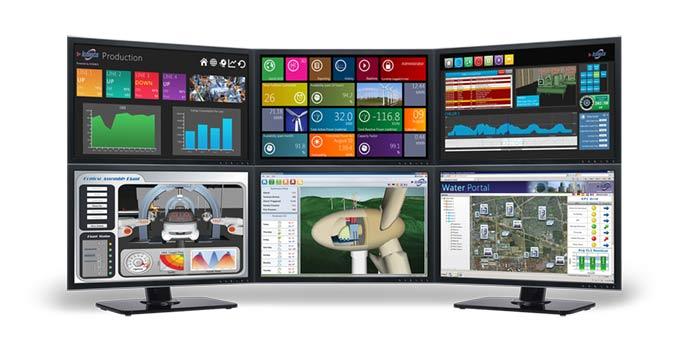 GENESIS64 features Smart Tiles, which are useful, at-a-glance graphical visualization tools that provide real-time information, similar to Live Tile technology found in Microsoft Windows 8, Windows RT, and Windows Phone operating systems. Version 10.85 also features an extended Symbol Library, which contains pre-made representations of gauges, knobs, meters, and other useful display objects. Also included are Smart Symbols, which provide re-usable models with dynamic components. Multiple advanced user interfaces are now integrated and available within GENESIS64 V10.85, including multi-touch, safe zones, integration with Microsoft Kinect® and speech recognition.
GENESIS64 also provides users with a high availability, secure, redundant architecture, scalable from the smallest plants to the largest mission-critical applications. Version 10.85 includes updates to EarthWorX™, ICONICS' powerful GEO SCADA solution, which provides real-time visualization to widely dispersed assets through integration with Esri maps, enhanced Microsoft Bing maps or Google maps. New Automatic 3D Terrain Elevation technology provides the ability to select any area of a 2D map and automatically convert it to a 3D contoured terrain visualization. ICONICS' patented SmartPin™ technology allows users to quickly view alarm conditions and status for any location worldwide.
Ideal for any system integrator doing small or large projects, ICONICS has introduced a new set of ProjectWorX™ tools for rapid configuration and deployment and to save time and money. Deployment includes enhanced Pack & Go and encryption capabilities. Project reporting allows users to report on the data sources in use by their project, along with checking the validity of those sources so that incorrect tags can be quickly identified. Such reports, including ones for Configured Tags and Runtime Use, aid in troubleshooting problems that may occur during initial project setup, deployment or runtime.
– GENESIS64's capabilities are simply amazing, said Russ Agrusa, President and CEO of ICONICS.
– With V10.85's smart visualization tools, modern UI integration, GEO SCADA, project reporting and more, our software reflects the latest technology for the benefit of our customers and partners.
With over 300,000 installations in over 60 countries worldwide, ICONICS software is recommended for automating, monitoring and optimizing a customer's most critical assets and has been selected by over 70 percent of Fortune 500 companies. ICONICS was recently recognized as Microsoft's 2014 CityNext Partner of the Year. This award highlights the continued partnership between Microsoft and ICONICS. As a three-time Partner of the Year award winner, ICONICS was also recognized for its innovation and ingenuity in 2012 as Microsoft's Sustainability Partner of the Year, and in 2008 as Microsoft's Independent Software Vendor of the Year.
http://iconics.com/Literature/Whitepapers/OPC-UA-Defined-and-Its-Impact-on-the-Oil-Gas.aspx