To the Bravest Asset Managers Living and Working in the Post-Corona Era
Will corona have a lasting impact on the maintenance sector, and by extension the industry and the whole world? That seems to be a rhetorical question. Because in the post-corona era, man and machine will continue to fail.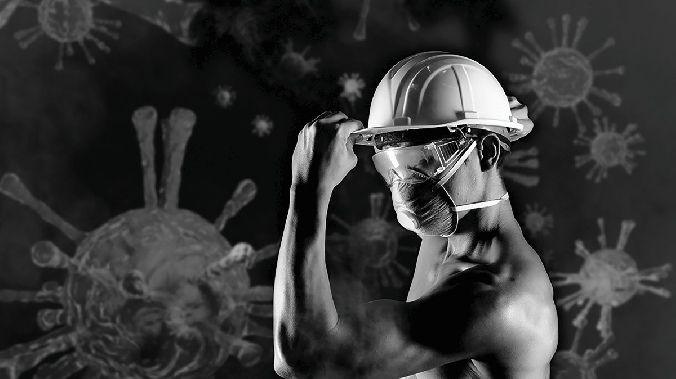 The "foundational elements" of maintenance which Nowlan and Heap put forward in their Reliability Centered Maintenance in the 1960s remain valid, as do the 6 failure patterns and the P-F lifecycle. The only thing that will undoubtedly change is the way we will deal with this as people and as experts. Just like healthcare providers such as doctors and nurses in intensive care, our industrial healthcare providers such as operators, maintenance technicians and reliability engineers will also look for a new, safer way of working, partly out of legal obligation, and partly out of self-protection.
As essential as the industry is for all our lives, our maintenance sector is vital for the industry. We are the cardiovascular specialists who, when feasible, predictively monitor the veins and the heart of our industry assets, preventively or curatively when necessary and thus help the core of our economical society to survive. Due to our crucial role within the industry, we are deeply intertwined with the whole of society and as a sector we also play a prevailing role in society which should not be underestimated.
Towards Anthropocentrism 4.0
In "Modern Times" Chaplin workers were depicted as modern slaves who lived and worked to the rhythm of the assembly line. As a consequence to of industrialization in those early days, everything literally revolved around the (steam)engine.
Today, the machine comes next to humanity, such as in production halls where humans and robots work side by side. Asset management is also shifting more and more towards people. Man is the central axis of our work process, but therefore also the main source of calamities.
Only 30 percent of all problems are of a purely technical nature (or special cause effect), while 70 percent are caused by some kind of human intervention (common cause effect). It is therefore perfectly justified that a great deal of importance is currently attached to procedures and rules, standardization and consistent behaviour to prevent technical calamities (failure or even standstill) and accidents (safety).
By working together with technology and being intensively supported by it, we can cover our human failures even further and limit the risks in all areas for everyone to the absolute minimum.
The Opportunity of a Good Crisis
During the formation of the United Nations shortly after World War II,
Winston Churchill proclaimed "Never miss the opportunity of a good crisis." From the ashes of the most inhumane war on an industrial scale, a global association with peace and cooperation as its main goals emerged.
The corona crisis is forcing employees to work remotely and children to achieve learning goals remotely. With digital tools this works miraculously well and sometimes even more efficiently than before. Let this be a valuable lesson for what maintenance can look like tomorrow.
Wouldn't it be more efficient to have just one pair of boots on the ground, supported by a few extra brains and eyes watching from a distance? This is what Artificial Intelligence (AI) and Augmented Reality (AR) can help achieve. Not tomorrow or the day after tomorrow, but today.
Fewer trips, fewer errors, less downtime, less costs, Higher returns, more production, more success, more job satisfaction. Something good can come from something bad, just like the UN came from World War II.
Dam against Disaster
But we can do more than just making things more efficient. Because crises can, with the necessary courage and ambition, also lead to completely new industries and job creation. When in World War II German U-boats destroyed many US ships heading for the UK, the US quickly accelerated the construction of their Liberty ships from 6 months to 4 days for one ship, due to exponentially increased efficiency (lean processes).
Ten years later, a storm surge in 1953 flooded entire parts of the Netherlands, the United Kingdom, Germany and Belgium. This disaster took the lives of thousands of people and also meant an unprecedented catastrophe that destroyed large parts of the economy and infrastructure.
But instead of giving up, the severely affected Dutch dared to take on this tragedy and developed the Delta plan. With this modern wonder of the world, our northern neighbours put themselves on the global map as specialists in waterworks, while at the same time creating a new economic branch.
Every crisis changes our general spectrum and how we look at processes. Because in traditions and acquired knowledge there is also a danger of rigidity and stagnation, just think of the joke of the sausage and the pan. Now is a time of introspection and reflection, but also of action and change. Or as Martin Luther King put it: "We must build dikes of courage against the storm surges of fear."
Back to the Future (Tomorrow)
The fear of the new, like the fear of death, is inherent in people. The great unknown is a constant challenge for us as humans and as humanity. But change and "progress" are also essential elements in our personal story and larger historiography.
And the change is already permeating many sectors. In the medical sector, doctors are increasingly performing complex operations with robots More and more industries are proving that human-machine integration works, just think about Audi Brussels' state-of-the-art production lines. What is the difference between a human vein and a machine cable.
AI and robotics will drastically and fundamentally change our jobs and our sector. Our operators, maintenance technicians and reliability engineers will all become F1 racing drivers only concerned with getting the maximum return from their car and winning the race, but during the race they also forward more than 1,500 data points per second to the engineers who are on the side about the operation of their machine. The racer as a high-tech operator with the technology of the future.
Sounds like sheer science fiction, right? Leonardo da Vinci drew in the 15th century the first airplanes, Jules Verne wrote about traveling to the moon. What seemed like nonsense at that time is now history. At the end of the 19th century, people who then moved by horse and cart and communicated mainly by letter, might have a hard time imagining that a few generations later their descendants would be making video calls in self-driving vehicles. Because neither the car nor the phone existed back then, but a good century later they seem indispensable.
Someone who is now 60 saw childhood James Bond movies with futuristic gadgets such as car radios, GPS and fingerprint security. Someone who is 40 today has experienced the breakthrough of the PC, the internet, the smartphone, virtual reality (VR), Bitcoin and AI. We now experience the kind of accelerations which until now would have taken us tens or hundreds of years, in just a few years. What will someone aged 20 or 0 experience? One thing seems certain: the acceleration has only just begun.
Perhaps within a few years we will remember with nostalgia the period when people still manually maintained machines, electrical cabinets and installations themselves. Question to the bravest of asset managers: when will we make the complete transition to AI powered and robot performed maintenance? Now in China, there are already advanced and implemented applications of maintenance in this way. Do we want to miss this boat and drown in a Chinese flood?
Asset Management in the After-Corona Life
After the financial crisis, the banking world changed radically and as a result the rest of the world changed with it. Governments demanded compensation for provided state guarantees, imposed stricter control rules and mitigated all risks, with implications for ordinary individuals and entrepreneurs.
In any case, this crisis will have consequences and change our general behaviour and our specific functioning, be it social distancing or something else. We will most likely be subject to new, modified safety rules that will make the work for our and other industries much more difficult or at least a lot more complicated.
But on the other hand, this crisis also offers opportunities to transcend such a challenge and ourselves as a sector. After all, technology can reduce or even completely solve many of the new corona related problems and challenges within asset management. It is better to embrace technology yourself than to be overrun by a foreign tech tsunami. So, we make sure that we as a progressive region can once again be participating in the start of a new industrial transition as earlier in the 19th and 20th centuries.
Change is difficult, but inevitable. Of course, we can opt for security and "business as usual", just as Kodak, Nokia or Bank of America did with all its consequences. The knowledge, data and technology to transform our traditional, reactive, preventive and predictive way of maintenance into a proactive and prescriptive way of maintenance are available today.
If AI and AR are sufficiently accessible, intuitive and people oriented, we can thus predict, analyse and execute safety and maintenance problems better than ever before. Algorithms can constantly learn and, thanks to advancing insight, predict and prevent asset failures better than us humans, and this through a smarter mix of forecasting models based on richer historical, contextual and current data. AR can support technicians and operators in a consistent and standardized manner when performing tasks and thus reduce the risk of failure. Moreover, our efficiency could increase exponentially using new technology. Why let 10 engineers walk around when the F1 car can be perfectly monitored from a distance?
For example, we will evolve from reactive (What do we see?), through diagnostic maintenance (Why did it happen?) to prescriptive, proactive maintenance (What could happen best?), which can make our industry grow and diversify exponentially. And if we choose to become the bravest among asset managers, we may be at the cradle of a new, thriving economy which has no equal worldwide with an exponential revival of industry in Europe, Belgium and Flanders.
Times are Changing
Every hour, every minute, every nanosecond changes the world, and asset management changes. We are evolving into a world where people become less of an executive centre, but rather a creative innovator.
As mentioned, this will require adjustments from everyone within asset management. Our role in maintenance is changing drastically, so we will have to learn new skills. The classic maintenance profile will gradually evolve into an operator context, such as the F1 driver or the aircraft pilot who not only controls the aircraft, but also monitors and adjusts the operation. A maintenance manager with the right tools and support can become a change manager and game changer for the entire company.
Because maintenance has a higher purpose than just running machines. We are vital in running our economy and life itself. From food supplies for our growing world population to new pandemic medicines, asset management plays a vital role for everyone. And we also need to fulfil that role in the future.
If we want to offer ourselves and the future generations in Europe and Flanders a future, we will have to make our industry better, more efficient and more innovative. Not only out of pure cost efficiency but also to provide a powerful counterweight to the emerging markets. As a result of the corona crisis, we might eventually evolve towards a "new form of globalization", one of institutional diversity and heterogeneity, or do we continue to "sub-optimize" in a globalization aimed at institutional harmonization and convergence? Or else: we opt for an over-globalized world, in which we depend mainly on imports from the Far East and other emerging markets. Or do we choose to invest with all our knowhow and resources in new high-tech industries which will conquer the world themselves? The choice is ours.
Let us make an opportunistic use of this crisis and achieve something big. Let us have the courage to go further and to transcend ourselves like the Netherlands did after the disaster of 1953. It is time for asset management 4.0.
Text Dirk De Nutte, CEO THE GRAIN